Through October 15, local television stations in Wisconsin's three largest TV markets have aired nearly 24,000 political ads this year and have charged candidates, parties and issue groups over $7.6 million for the air time, according to figures released today by the Wisconsin Democracy Campaign.

24,000 Doses of Poison
Stations in Top 3 Wisconsin Markets Charge $7.6 million for Air Time
October 22, 2002
Madison -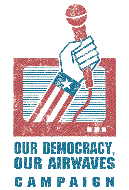 As of October 15, $7,645,241 had been spent this year to air 23,960 ads on stations in Milwaukee, Green Bay and Madison. The most ads have been run on Green Bay stations, where 8,401 ads aired from January 1 to October 15 at a cost of $1,729,685. Milwaukee stations have charged the most for political ads, taking in $4,095,851 to air campaign ads 7,572 times. Madison stations took in $1,819,705 for 7,987 ads. The figures obtained by the Wisconsin Democracy Campaign were compiled by the Campaign Media Analysis Group (CMAG), a private firm that tracks political advertising on television. (See table below.)
Nationally, candidates, parties and issue groups have spent $599.6 million to air 981,236 ads on 561 stations in the nation's top 100 markets through October 15.
The cost of TV ads is fueling record spending in Wisconsin's race for governor. Candidates are on a pace to spend between $15 million and $20 million on the contest, and special interest groups will spend millions more on their own independent campaigns in the race, predicted WDC executive director Mike McCabe.
"So far, there have been nearly 24,000 campaign ads aired in the state's three largest TV markets alone, and they've been 24,000 doses of poison," McCabe said. "Not only does the highly negative nature of the ads poison the debate, but their cost poisons the political process by forcing candidates to raise huge sums of money from wealthy special interest donors. The cost of TV is the driving force behind runaway campaign spending, and the political arms race is at the heart of the corruption scandal in the Capitol."
The Democracy Campaign is leading efforts in the state to promote free air time legislation. Last week, U.S. Senators John McCain and Russ Feingold introduced S. 3124, the Political Campaign Broadcast Activity Improvement Act, in the Senate. The bill requires TV and radio stations, as part of the public interest obligation they incur when they receive a free broadcast license, to air at least two hours a week of candidate-centered or issue-centered programming during the period before elections. It also would provide qualified candidates and parties up to $750 million worth of broadcast vouchers that could be used to place political advertisements on television and radio stations in each two-year election cycle. In addition, the legislation closes loopholes in the "lowest unit cost" provision in federal law to ensure that candidates receive the same advertising rates that stations give to their high-volume, year-round advertisers.
Number and Cost of Political Ads by Station
January 1 to October 15, 2002
Station
Number of Ads
Estimated Cost
 
 
 
WCGV (UPN)
10
$1,444
WPXE (PAX)
94
$17,246
WVTV (WB)
71
$35,585
WDJT (CBS)
894
$342,963
WISN (ABC)
1,863
$806,601
WITI (Fox)
2,086
$891,983
WTMJ (NBC)
2,554
$2,000,029
Milwaukee Total
7,572
$4,095,851
 
 
 
WIWB (WB)
19
$2,230
WLUK (Fox)
1,309
$161,415
WGBA (NBC)
1,628
$203,152
WBAY (ABC)
2,349
$522,779
WFRV (CBS)
3,096
$840,109
Green Bay Total
8,401
$1,729,685
 
 
 
WMSN (Fox)
451
$56,136
WKOW (ABC)
2,114
$350,230
WMTV (NBC)
2,964
$705,439
WISC (CBS)
2,458
$707,900
Madison Total
7,987
$1,819,705
Source: Campaign Media Analysis Group and the Alliance for Better Campaigns