Gov. Scott McCallum's campaign fund accepted special interest campaign contributions faster than the record-setting snow fell in December, according to a Wisconsin Democracy Campaign analysis released today.

Green Blizzard Strikes McCallum Campaign Fund in December

February 6, 2001

Madison -

The new governor's most recent six-month campaign finance report through Dec. 31, 2000 showed he received a total of $215,744 in individual contributions. The bulk of those were a record $201,506 in large individual contributions. McCallum also received a record $28,448 in political action committee contributions. Most of these contributions came in mid- to late December when it became evident that former Gov. Tommy Thompson would leave Wisconsin for a job in the Bush Administration.

"The new governor made a lot of friends in December," WDC executive director Mike McCabe said, noting that many of the contributors had never given to McCallum before. "It goes to show that money flows to power. Big donors don't give out of a sense of civic duty, and they don't just give out of personal loyalty or political kinship. They give to those who are in a position to do them some good. They are making an investment."

The WDC's analysis of McCallum's campaign contributions found that:
McCallum's total large individual and PAC contributions in December - $143,363 - were five times higher than any of the previous five months during the reporting period (see chart below).
The McCallum campaign collected three times more in large individual contributions from July through December 2000 than any previous year-end six-month period. During comparable periods from 1991-99, his large individual contributions ranged from $11,617 to $65,114.Most of his large individual contributions came in December - $120,963. This was nearly four times that of any previous December, and most of it came in after the results of the presidential election had been determined. Previously, his campaign fundraising in Decembers between 1991 and 1999 ranged from $0 to $31,774.
McCallum received 56 individual contributions of $1,000 or more in December, compared to 120 contributions of $1,000 or more during the entire 1995-98 election period. Much of this money - more than $28,000 - came from contributors who had not previously made large individual contributions to the former lieutenant governor's campaign. (Table 1).
McCallum accepted $28,448 in PAC contributions during the six-month period, including $22,400 in December. This exceeds the $19,050 in PAC contributions he received during the entire 1995-98 election period. In several cases, PACs that had given McCallum little or nothing made substantial contributions to him in mid- to late December (Table 2).
MONTHLY LARGE INDIVIDUAL AND PAC CONTRIBUTIONS TO MCCALLUM FROM JULY THROUGH DECEMBER 2000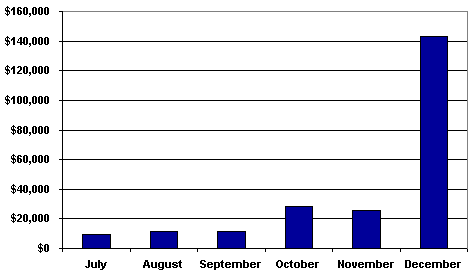 The sudden blizzard of cash to McCallum's campaign strongly indicates that powerful special interests are playing catch-up to capture the attention of the new governor, whose previous fund raising paled in comparison to Thompson.
For special interests, the short-term benefits include influence on the taxing and spending decisions that McCallum will make in the 2001-2003 state budget. In the long term, courting the state's chief executive with cash now is a wise investment if he runs for his own four-year term as governor in 2002.
McCabe added the sudden infusion of cash into McCallum's campaign coffers sheds new light on the decision of other likely Republican candidates to withdraw from the 2002 gubernatorial race.
"This is a classic example of the wealth primary. Big money has cast its vote, and for all intents and purposes the Republican nomination is sewn up before a single Wisconsin voter has been given a chance to state a preference," McCabe said. "Enormous damage is done to the quality of our democracy when money is allowed to play such a dominant role in deciding who will govern us. The voters are denied real choices and competitive races."
TABLE 1
LARGE INDIVIDUAL CONTRIBUTIONS TO MCCALLUM IN DECEMBER 2000
Contributor
City
State
Employer
Amount 12/2000
Amount
1990-11/30/00
Zietlow, Donald P
Onalaska
WI
Kwik Trip Inc
$5,011
$0
Sadoff, Victoria
Fond du Lac
WI
Badger Liquor Co
$5,000
$0
Mathy, Steven/LeeAnn
La Crosse
WI
Mathy Construction Co
$5,000
$200
Senty, James A
La Crosse
WI
Midwest Natural Gas Co
$5,000
$0
Troupis, James R
Madison
WI
Michael Best & Friedrich
$2,500
$1,340
McKeitham Daniel F
Milwaukee
WI
Tamarack Petroleum Co
$2,000
$0
Gelatt, Philip/Melissa
La Crosse
WI
Northern Engraving Corp
$2,000
$2,200
Reinhart, Marjorie A
La Crosse
WI
Reinhart Co.
$2,000
$0
Ahern, John E
Fond du Lac
WI
JF Ahern Co
$2,000
$9,470
Wanek, Ronald/Joyce
Arcadia
WI
Ashley Furniture Industries
$2,000
$0
Humleker, Margaret B
Fond du Lac
WI
Retired
$1,250
$3,939
TKach, Stephen J
Annapolis
MD
US Dept of Justice
$1,250
$0
French, George/Beverly
Green Bay
WI
Orde Advertising
$1,100
$9,376
Blamey, Richard/Ann
Fond du Lac
WI
Vinyl Plastics Inc.
$1,000
$4,500
Hsu, Paul C
Wausau
WI
Hsu's Ginseng Enterprises
$1,000
$1,500
Hengel, Edward J
Onalaska
WI
Reinhart Companies
$1,000
$0
Hegwood, Robert D
Eagle
WI
Commercial Communications Inc
$1,000
$5,100
Heath, Charles V
Verona
WI
Horizon Development Co
$1,000
$0
Haack, William R
Elm Grove
WI
Frank F Haack & Associates
$1,000
$2,500
Grover, Reginald B
Kohler
WI
Vinyl Plastics Inc.
$1,000
$1,000
Grossman, Ronald E
Mequon
WI
Sinai Samaritan Medical Center
$1,000
$4,350
Bechthold, Kurt D
Brookfield
WI
Payne & Dolan
$1,000
$1,000
Derse, James/Doris
Elm Grove
WI
Derse Outdoor Activities
$1,000
$4,825
Gentine, Louis P
Elkhart Lake
WI
Sargento Food Corp
$1,000
$3,150
Bohl, David B
Hartland
WI
Perma Pressure LLC
$1,000
$0
Lasky, Sheldon J
Oshkosh
WI
Sadoff Iron & Metal Co
$1,000
$1,300
Dahlin, Bernard E
Green Bay
WI
Nichols Paper Products Co
$1,000
$1,250
Boucher, Gordon/Bernice
Oconomowoc
WI
Boucher Group
$1,000
$1,250
Cummings, Brian G
Oconomowoc
WI
Redmond Commercial Development
$1,000
$875
Chudnow, Joseph
Fox Point
WI
Chudnow Construction Corp
$1,000
$4,050
Bub, Richard M
Mequon
WI
Graef Anhalt Schloemer & Assoc
$1,000
$1,350
Braun, Dennis J
Brookfield
WI
Total Comfort of Wisconsin
$1,000
$0
Berg, Kenneth R
Dodgeville
WI
Quality Liquid Feeds Inc
$1,000
$4,650
Prescott, George E
West Bend
WI
Prescott's Supermarkets Inc
$1,000
$4,500
Youso, Gary A
Neenah
WI
Old Fashioned Foods Inc
$1,000
$2,600
Wurman, Leonard/Arleen
Wausau
WI
Retired
$1,000
$500
Wulf, Thomas O
Sturgeon Bay
WI
Wulf Brothers
$1,000
$1,000
Wirth, Gustav W
Cedarburg
WI
Delta Satellite Corp
$1,000
$550
Stayer, Launa R
Sheboygan
WI
Johnsonville Foods
$1,000
$1,543
Solberg, Trygve A
Woodruff
WI
TA Solberg Co
$1,000
$1,000
Smith, Gary M
Fond du Lac
WI
CD Smith Construction
$1,000
$3,100
Skogen, David R
Onalaska
WI
Skogen Food Stores
$1,000
$0
Koenig, Phillip G
Madison
WI
RCM Technologies Inc
$1,000
$3,850
Redmond, Mark D
Delafield
WI
Redmond Commercial Development
$1,000
$4,186
Kierlin, Robert A
Winona
MN
Fastenal Co
$1,000
$0
Petri, Mark G
Mequon
WI
Rite-Hite Holding Corp
$1,000
$4,350
Ogden, Peter
Pewaukee
WI
Ogden & Co
$1,000
$2,000
Massick, Stephen A
Fond du Lac
WI
Fond du Lac Regional Clinic
$1,000
$5,100
Lubar, David J
Milwaukee
WI
Lubar & Co
$1,000
$3,100
Loos, Henry J
River Hills
WI
Quarles & Brady
$1,000
$2,200
Lemmenes, Larry H
Waupun
WI
Alto Dairy Cooperative
$1,000
$1,000
Kress, William F
Green Bay
WI
Green Bay Packaging Inc
$1,000
$1,000
Ahern, Anthony J
Fond du Lac
WI
JF Ahern Co
$1,000
$1,500
Klancnik, Fred A
Madison
WI
Smith Group JJR Inc
$1,000
$1,000
Kittelsen, Rodney O
Monroe
WI
Kittelsen Law Office
$1,000
$250
Scherzer, David F
Grafton
WI
Sigma Environmental Services Inc
$1,000
$2,000
TABLE 2
PAC CONTRIBUTIONS TO GOV. SCOTT MCCALLUM IN DECEMBER 2000
PAC
Amount
December 2000
Amount
1993 - 11/30/00
WI Realtors
$7,000
$3,800
Milwaukee Police Association
$5,000
$250
Building a Better WI
$2,500
$1,500
Wisbank
$2,000
$0
Healthy WI
$1,000
$0
WI Union League
$1,000
$0
Northern States Power
$500
$0
Associated Builders and Contractors
$500
$0
Concerned Business & Industry (WMC)
$500
$650
Concerned Realtors
$500
$0
WI Insurance Alliance
$300
$0
NW Mutual Life
$300
$600
Association of State Prosecutors
$250
$0
Banc One WI
$250
$1,250
Metro Milwaukee Association of Commerce
$250
$0
Milwaukee Deputy Sheriff Association
$150
$0
Daimler Chrysler
$100
$0
Cars of WI
$100
$0
WI Assisted Living
$100
$0
General Electric
$100
$500
TOTAL
$22,400
$8,550