Local television stations devoted an average of more than a minute and a half a night to statements by candidates for national and state office in the 30 days before the November 7 election, an analysis of evening newscasts in the Madison market shows.

Local TV Responds to Alliance Challenge, Study Finds
Air Time Devoted to Candidates Discussing Issues Up Tenfold Over April Election,
But Still Far Short of National 5-Minute Standard
December 12, 2000
Madison - Local television stations devoted an average of more than a minute and a half a night to statements by candidates for national and state office in the 30 days before the November 7 election, an analysis of evening newscasts in the Madison market shows.
That's a tenfold increase over the nine seconds a night the four local network affiliates averaged in the month leading up to the April 4 election, said Mike McCabe, executive director of the Wisconsin Democracy Campaign and state project director of the Alliance for Better Campaigns-Wisconsin, a coalition promoting a national standard that calls on broadcasters to air five minutes a night of candidate discourse in the 30 days before each election.
In its analysis of evening newscasts from October 8 through November 6, the Alliance also found that the stations not only devoted more time to election coverage than they did before the April election, but the coverage was more issue-oriented and substantive. On the other hand, the local stations aired nearly $4 million worth of political ads during the month, and viewers of the evening newscasts saw over four times as much paid advertising as they did candidate discourse that was part of election news stories.
The Alliance's study, which monitored compliance with the standard developed by a White House commission that included broadcasters and was co-chaired by the president of CBS, shows:
The four network affiliates in Madison - WKOW 27 (ABC), WISC 3 (CBS), WMTV 15 (NBC) and WMSN 47 (Fox) - averaged 1 minute, 32 seconds of candidates discussing campaign issues over the 30-day period. That compares to an average of nine seconds of candidate discourse in the month before the April 4 election.
WISC went from worst to first among the Madison stations, averaging 2 minutes, 23 seconds of candidate discourse before the November election. In the month before the April election, WISC aired the least candidate discourse, only 4.9 seconds a night.
WKOW was a close second to WISC, averaging 2 minutes, 1 second of candidates talking about issues each night. In the month leading up to the April election, WKOW led the way with an average of 13.7 seconds of candidate discourse each night.
WMTV averaged 1 minute, 19 seconds of candidate discourse a night before the November election. Its average before the April election was 13.5 seconds.
WMSN, which only has one evening newscast each day, averaged 26 seconds of candidate discourse a night. That's up from the station's average of 5.5 seconds in the month before the April election.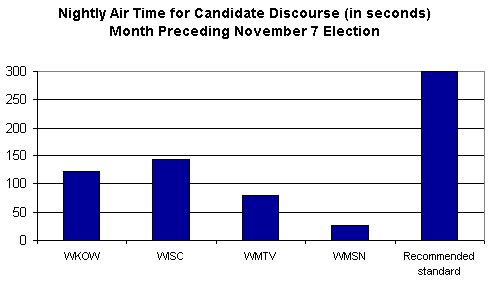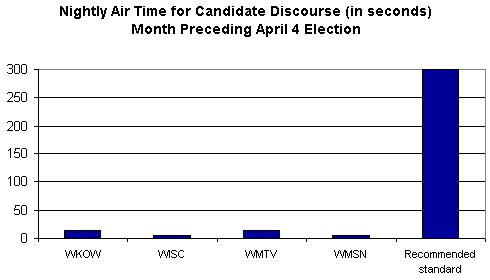 The average amount of air time devoted to overall campaign coverage each night was 9 minutes, 23 seconds on WKOW; 8 minutes, 25 seconds on WISC; 6 minutes, 6 seconds on WMTV; and 3 minutes, 32 seconds on WMSN.
Over a quarter (28%) of election stories before the November election focused on issues, while 20% were about poll results or other "horse race" aspects of the election. The remainder of the stories (52%) contained a mixture of issues and electoral process or involved other kinds of campaign coverage such as ad watches. Before the April election, the majority of the election stories covered the "horse race" - 57% focused on campaign strategy or the electoral process, 11% focused on issues and 29% contained a mixture of process and issues.
In the month before the November election, the four stations aired at least $3.9 million worth of paid political ads, according to a review of ad sale records provided by the stations. This figure is an incomplete accounting of political ad sales for the month because not all stations revealed the ad slots purchased by special interest groups running independent campaigns for or against candidates. Stations are required by law to make public ad buys made by candidate committees, but do not have to open records detailing ad buys by special interest committees.
During evening newscasts, the stations aired an average of 6 minutes, 17 seconds of paid political ads, or more than four times as much time as the 1 minute, 32 seconds that was devoted to candidate discourse in election news stories.
The local stations aired more candidate discourse than the three major national networks that were monitored by the national Alliance for Better Campaigns. Over the 30-day period, the networks aired an average of 1 minute, 6 seconds of candidate discourse. NBC averaged 1 minute, 41 seconds, CBS averaged 57 seconds, and ABC averaged 39 seconds.
The study reveals both good news and bad news for voters, McCabe said.

"The bad news is that we still are most often seeing and hearing candidates in paid ads, where the candidates decide which issues to talk about and tightly control their message. Voters are better served when candidates are answering reporters' questions and what they say is subjected to serious journalistic scrutiny," McCabe said.

"The good news is that the stations significantly stepped up their coverage and made the coverage more candidate-centered and issue-oriented. Instead of just dwelling on who's likely to win, the coverage gave voters some information they could use to make up their own minds. While the stations didn't come close to meeting the five-minute standard, they took a big step in the right direction," he said.

McCabe said part of the reason for the sharp increase in candidate air time on newscasts was that the November election was more newsworthy than the April election, which included the presidential primary, a state Supreme Court race, county board contests, local school board races and several local referenda. But another important factor causing broadcasters to devote more time to candidate discourse and make their coverage more issue-oriented was the national five-minute standard and the Alliance's advocacy on its behalf, he said, noting that local broadcasters acknowledged as much.

Wisconsin Broadcasters Association president John Laabs was quoted saying the five-minute standard is an "innovative idea" that "served as an impetus to get (the state's local TV stations) to think about new and innovative things to do." WKOW news director Tod Pritchard publicly credited the Alliance for Better Campaigns effort with "making us reevaluate how we cover elections." Other stations also privately informed the Alliance that its advocacy led them to change their coverage, McCabe said.

He pointed to WISC's "Voting 101" and "Voting 201" series as well as WKOW's "Vote 2000 One-on-One" interviews as examples of new coverage formats that didn't exist in past elections and for the first time gave candidates regular air time to directly address issues viewers care about.