A new study of the broadcast industry's role in the 2000 election campaign has found that the national networks and a sampling of local television stations across the country devoted just over a half-minute to candidate discourse during the height of the 2000 primary season, while the industry as a whole pocketed record revenues from political ads, the Alliance for Better Campaigns-Wisconsin said today. TV Stations Outside Wisconsin Aired a Half-Minute
of Candidate Discourse Nightly Before Primary Elections,
National Study Shows
Air time well short of national target but far better than 9 seconds a night in Madison
June 13, 2000
Madison - A new study of the broadcast industry's role in the 2000 election campaign has found that the national networks and a sampling of local television stations across the country devoted just over a half-minute to candidate discourse during the height of the 2000 primary season, while the industry as a whole pocketed record revenues from political ads, the Alliance for Better Campaigns-Wisconsin said today.
Sixteen stations tracked by the national Alliance for Better Campaigns and the University of Southern California provided a nightly average of 38 seconds of candidates discussing issues in the 30 days before presidential primary elections nationwide. Networks performed even more poorly than the typical local station. ABC, CBS and NBC aired a nightly average of just 36 seconds of candidate discourse in the month before the March 7 Super Tuesday primary, according to the Annenberg Public Policy Center of the University of Pennsylvania.
That's far short of the five-minutes-a-night standard recommended by a White House panel of broadcasters and public interest advocates as a means for meeting the industry's public service obligations. But it's four times more than the nine seconds a night local television stations in the Madison market devoted to statements by candidates for national, state and local office in the month before Wisconsin's April 4 election.
In stark contrast, two stations that committed to the "5/30" standard (five minutes a night in the 30 days before an election) stood out for their efforts to air candidate discourse. WCVB in Boston averaged 4 minutes 18 seconds of candidate discourse. WEWS in Cleveland averaged 3 minutes 49 seconds a night.
"The stations in Boston and Cleveland are making a good faith effort to meet their public interest obligations, and stations in our state should follow their example. Democracy deserves more than nine seconds a night here in Wisconsin," said Mike McCabe, executive director of the Wisconsin Democracy Campaign and state project director of the Alliance for Better Campaigns-Wisconsin. He called on local television stations in Wisconsin to commit to providing brief nightly issue forums in the 30 days before the state's September 12 primary and the November 7 general election.
"We'll be watching this fall to see how our local television stations serve the public interest," McCabe said.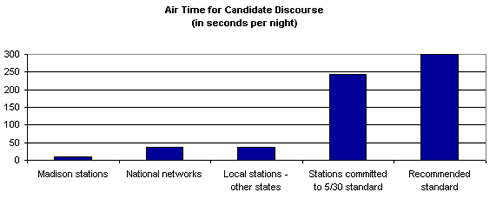 While devoting precious little time to candidate discourse on their newscasts, broadcasters nationally pocketed more than $114 million from 151,267 political ads through the first four months of this year, according to Power Television, an ad monitoring service. The television industry is expected to make a total of $600 million from the 2000 election - a six-fold increase over what it took in from politics a generation ago.
In 1998, the Advisory Committee on the Public Interest Obligations of Digital Television Broadcasters co-chaired by CBS President Leslie Moonves and Norman Ornstein of the American Enterprise Institute recommended that broadcasters voluntarily provide five minutes a night of candidate discourse in the month before elections as part of their payment for using - free of charge - the public's airwaves valued in the tens of billions of dollars. While no Wisconsin broadcasters have signed on to the proposal, 25 local stations in other states have committed to the 5/30 standard.
The Alliance for Better Campaigns-Wisconsin, a coalition of 16 public interest groups led by the Wisconsin Democracy Campaign, and similar state groups in 23 states are working with the national Alliance for Better Campaigns to build support for the 5/30 recommendation. The national Alliance for Better Campaigns is headed by former Washington Post reporter Paul Taylor and is co-chaired by legendary TV anchor Walter Cronkite and former presidents Jimmy Carter and Gerald Ford.