Payday lenders, mostly from outside of Wisconsin, have become the No. 1 out-of-state special interest contributor during the past two years, contributing thousands of dollars to Gov. Thompson and key legislators who control the fate of legislation to limit the interest rates that the industry charges, the Wisconsin Democracy Campaign said Monday.

Payday Loan Industry Becomes Major Source of Out-of-State Campaign Funds

May 1, 2000

Madison -

An analysis of campaign finance reports filed by the candidates shows that six payday lenders contributed more than $32,000 to candidates from 1997-99.
COMPANY
CITY
STATE
AMOUNT
Check N Go
Mason
OH
$9,476
Check into Cash Inc.
Cleveland
TN
$7,600
Madison's Cash Express
Madison
WI
$6,150
National Cash Advance
Cleveland
OH
$5,600
Venture Services Inc.
Chatanooga
TN
$2,800
Cashland Check Cashing
Deerfield
IL
$700
TOTAL
$32,326
Out-of-state owners, employees and family members from five of the companies contributed more than $26,000. The owners of Madison's Cash Express, who live in the state, contributed more than $6,000 during the three-year period.
The leading out-of-state contributors were generally legal, gambling and insurance interests until 1998 when payday lenders surged to the top of the list. The escalation in the number and amount of the contributions coincided with the industry's sharp business expansion in the state, and with legislative efforts to control the 300 to 500 percent in fees or interest that they charge (Chart).
The number of payday lender outlets in Wisconsin has increased from 17 to nearly 200 since 1996. The amount of loans they made increased from about 80,000, valued at about $11 million, to more than 630,000 loans valued at more than $147 million in 1998, according to Department of Financial Institutions records.
In 1999, legislators attempted to regulate or to limit the amount of interest that these businesses may charge customers. Both of these bills, Assembly Bill 612 and Senate Bill 96, died in the Senate Privacy, Electronic Commerce and Financial Institutions Committee. Committee Chairman Jon Erpenbach of Middleton and Sen. Kimberly Plache of Racine, a committee member, were the top legislative recipients of contributions from the payday lending industry (Table).
The list of top recipients of payday loan industry contributions shows a strategic giving pattern by this special interest group to safeguard its interests. Gov. Thompson tops the list followed by 12 legislators who are legislative leaders or who were or are members of legislative committees that handle proposals involving financial institutions or consumer affairs. Legislative leaders and these committees control the content and ultimate fate of bills that affect this industry.
"The payday loan industry's contributions coupled with the actions of those who received them create the appearance that money -- and not the needs of consumers or the merits of a proposal -- drive legislative decision making," WDC executive director Mike McCabe said.
"These companies were nowhere on the campaign finance radar screen in Wisconsin just a few years ago, and now the industry is the biggest single source of out-of-state donations. Payday loan operations have become big business in Wisconsin, and they don't want any limits placed on their activities. So they decided it's in their best interest to become big political donors," McCabe said, noting that contributions from people associated with the payday loan companies have averaged over $250.
In addition to campaign contributions by the industry, lobbying expenditures by the Wisconsin Deferred Deposit Association which represents them has quadrupled in two years, from $10,716 in 1997 to $48,000 in 1999. Their lobbyist, Patrick Essie who also serves as executive director of the association, is one of the most active campaign contributors in his profession. Essie and his wife have contributed $12,625 to the governor and legislators since 1997.
TABLE
LARGE INDIVIDUAL CONTRIBUTIONS* FROM THE PAYDAY LOAN INDUSTRY TO
CANDIDATES FOR STATEWIDE OFFICE AND THE LEGISLATURE
1997-99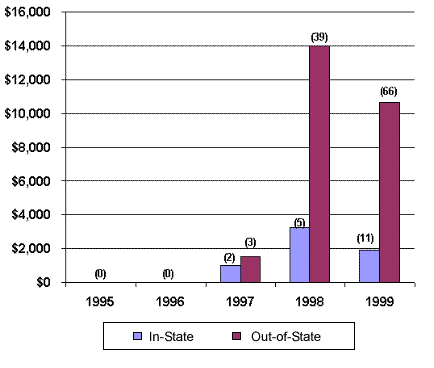 TABLE
LARGE INDIVIDUAL CONTRIBUTIONS* FROM THE PAYDAY LOAN INDUSTRY
TO CANDIDATES FOR STATEWIDE OFFICE AND THE LEGISLATURE
1997-99
CANDIDATE
PARTY
AMOUNT
Thompson, Tommy G
R
$5,000
Plache
D
$4,050
Erpenbach
D
$3,500
Huelsman
R
$2,500
Hoven
R
$2,350
Jensen
R
$2,226
Foti
R
$1,600
Clausing
D
$1,500
Meyer
D
$1,500
Chvala
D
$1,500
Ward
R
$1,000
Kreuser
D
$800
Jauch
D
$800
Jeskewitz
R
$600
Lazich
R
$500
Manthey
D
$500
Plale
D
$500
Klusman
R
$500
Lasee, F
R
$300
Huebsch
R
$300
Gard
R
$300
Turner
D
$300
Rhoades
R
$200
TOTAL
$32,326
* Represents individual contributions of $100 or more annually.