Revised versions of "The Twelve Days of Christmas"
Listen to the Campaign Reform Carolers' version of the Twelve Days of Christmas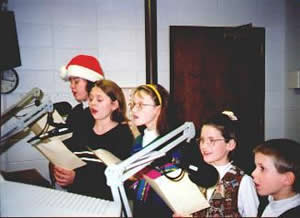 Carolers: Sarah Stauss, Sara Derge, Amanda Caneff, Margaret Caneff, Jamie Caneff.
Click on links to download audio.
On the Twelfth Day of Session,
Big money gave to me,
Higher college costs,
More tort reform,
Nasty TV ads,
Mining on a river
More expensive roads,
Higher doctor bills,
More video poker
No living wage,
Houses dotting hillsides,
Higher tax bills,
Lots of dirty water,
And an empty promise for reform.