The 2010 candidates for governor and outside special interest groups that smeared them with negative mailings and broadcast ads to influence the elections spent a record $37.4 million on the race, a Wisconsin Democracy Campaign analysis shows.

Record $37.4 Million Spent In Governor's Race
Spending up 57 percent from 2002 and more than quadruple the 1998 governor's race
February 8, 2011
Madison –
The figure is 16 percent higher than the $32.3 million spent in the 2006 governor's race by the candidates and negative electioneering groups and 57 percent higher than the $23.8 million spent in 2002. Spending in the 2010 race more than quadrupled the $8.6 million spent in the 1998 governor's race (see bar chart).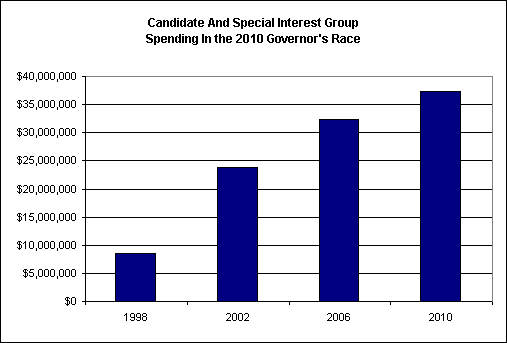 The seven candidates for governor on the ballot and the two lieutenant governor candidates who won their September primaries spent $25.22 million in the race (see table). Topping the list was the eventual winner, Republican Governor Scott Walker and running mate Rebecca Kleefisch who spent a combined $11.34 million.
Walker's opponent, Democrat Tom Barrett, and his running mate Tom Nelson spent a combined $7.19 million. Rounding out the top three biggest spenders was Walker's Republican opponent in the primary, Mark Neumann, who spent $6.57 million – much of it his own money.
Outside electioneering groups funded mostly by contributions from unidentified business, union and ideological interests spent an estimated $12.1 million in race – mostly to sponsor broadcast ads and mailings that attacked the candidates rather than discuss the issues.
Independent expenditure groups, which must file fundraising and spending reports with the state, spent $6.07 million and phony issue ad groups also spent about $6.08 million on the governor's race. Phony issue ad groups represent many of the same special interests as independent expenditure groups but are not required to publicly identify their fundraising or spending activities in reports to the state.
But in many cases, independent expenditure groups also avoid identifying donors in their fundraising and spending reports. A Democracy Campaign report last month found that independent expenditure groups spent about $10 million and phony issue ad groups spent about $9 million on all of the legislative and statewide races for governor, attorney general and lieutenant governor. However, only about $6 million of the money spent came from identified donors.
The top-spending special interest groups in the governor's race were:
The Republican Governors Association which used both independent expenditure and phony issue ad groups and spent an estimated $5 million to sponsor numerous TV ads that claimed Barrett's votes as a former congressman and his policies as current Milwaukee mayor would mean higher taxes and job losses for the state. The group's commercials regularly tied Barrett to the outgoing and unpopular Democratic Governor Jim Doyle. The association, which backs Republican candidates for governor across the nation, also sponsored a combination attack mailing and absentee ballot application that angered voters across the state because it contained personal information, including the recipient's birth date.
The Greater Wisconsin Committee which spent an estimated $4.8 million in the governor's race – mostly on TV ads to smear Walker. The group's ads criticized Walker for favoring policy and tax breaks sought by insurance, banking and other special interests that made large campaign contributions to his campaign as well as favoring cuts in state health care programs for the needy in order to pay for tax cuts for wealthy individuals and corporations. The Madison-based group has backed Democratic candidates for the legislature and statewide office since it was founded in 2004. It used independent expenditure, phony issue ad and 527 groups to conduct its activities. A 527 group, which can raise and spend unlimited amounts to spend on electioneering activities, is named for the U.S. Internal Revenue Service regulations that require it to file disclosure reports.
Wisconsin Manufacturers & Commerce, the state's largest business organization, which claims it spent $950,000 to back Walker. Among Walker's first acts as governor was to call a special session of the legislature to push numerous legislative proposals that appear on the business group's legislative agenda. The business group is a perennial heavyweight in state politics, policymaking and elections and usually supports Republican candidates for statewide office and the legislature. It was one of the first organizations in to engage in secret fundraising and spending on phony issue ads in the 1996 elections.
For more details about all of the independent expenditure and phony issue ad groups and their activities in the 2010 elections please go to the "Hijacking Campaign 2010" feature.
In addition to the governor's race, candidates and outside special interest groups spent nearly $1.5 million in the race for attorney general. Incumbent Republican Attorney General J.B. Van Hollen accounted for much of the spending – about $1.08 million during the four-election cycle, including $644,342 in 2010 and $202,519 in 2009. Van Hollen's Democratic challenger, Scott Hassett, spent $361,044 in the race, including $348,768 in 2010. Outside special interest groups spent $38,298 in the race led by the Wisconsin Professional Police Association which doled out $20,000 and the New Prosperity Foundation which spent $17,000. Both of those groups backed Van Hollen.
The Democracy Campaign calculated the cost of the governor's race using reports filed by the candidates and some of the electioneering groups with the Government Accountability Board and the Internal Revenue Service, as well as television ad-buy data and information about group electioneering activities reported to WDC's Hijack Hotline.
Table
2010 Election Cycle Candidate Spending In The Governor's Race
Candidate
Office
Party
Spending
Scott Walker
G
Republican
$11,072,433
Tom Barrett
G
Democrat
$6,781,584
Mark Neumann
G
Republican
$6,571,429
Tim John
G
Democrat
$78,564
Scott Paterick
G
Republican
$25,529
James James
G
Common Sense
$2,079
Jim Langer
G
Independent
$2,131
Tom Nelson*
LG
Democrat
$413,066
Rebecca Kleefisch*
LG
Republican
$272,217
TOTAL
$25,218,570
*The totals for Kleefisch and Nelson are what they spent after they won their primary elections and were teamed with Walker and Barrett. The figure for Kleefisch does not include $65,000 in contributions her campaign gave to Walker's campaign.