Nearly two-thirds of the money spent by special interest smear groups to influence the 2011 and 2012 recall elections was raised from undisclosed sources, a Wisconsin Democracy Campaign review found.

Smear Groups Raised $49 Million From Secret Sources
Only $1 in $81 raised by recall groups came from fully identified donors
September 17, 2012
Madison – Over half of the money raised by special interest smear groups that spent more than $75 million to influence the 2011 and 2012 recall elections came from undisclosed sources, a Wisconsin Democracy Campaign review found.
Sixty-five outside special interest groups that did campaign advertising and other electioneering activities costing an estimated $75.8 million in the recall races for governor, lieutenant governor and 13 state Senate seats raised at least $90.4 million over 18 months since the beginning of 2011. The Democracy Campaign review found the sources of an estimated $49.2 million raised by these smear groups were undisclosed. Another $40.1 million was raised from donors difficult to track and only about $1.1 million was raised from fully disclosed donors (see Pie Chart).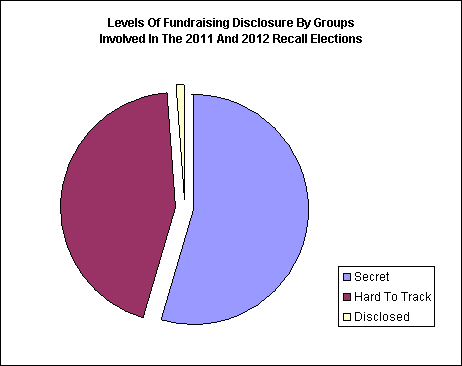 Secret Fundraising
The $49.2 million in undisclosed fundraising by groups involved in the recalls was mostly done by ideological or political groups. These contributions include:
An estimated $30.7 million raised by 20 groups to spend on phony issue ads. These groups, led by Club for Growth Wisconsin and Wisconsin Manufacturers & Commerce which raised an estimated $9.1 million and $4.7 million, respectively, to back GOP candidates are exempt from state and federal disclosure by lenient campaign finance laws and court decisions because their electioneering activities do not distinctly tell people who to vote for even though their negative mailings and broadcast advertising leave little doubt about who they want viewers to support. Some of them, like the conservative Americans for Prosperity, are even classified as charitable organizations under U.S. Internal Revenue Services rules. Americans for Prosperity, which is mostly funded by billionaires Charles and David Koch, rounds out the top three issue ad groups in the recalls, raising and spending an estimated $4.5 million.
About $18.5 million raised from unnamed contributors or contributions identified as coming from the organization itself. This batch of contributions was reported by independent expenditure groups which are required to disclose their fundraising and spending because their mailings, ads and other electioneering activities clearly tell people who to vote for. Some of these groups like the liberal People for the American Way and Democratic Legislative Campaign Committee reported substantial spending but few or no contributors. That is because Wisconsin law only requires out-of-state independent expenditure groups to report contributions from Wisconsin sources and expenditures made on state elections. The largest void between fundraising and spending was reported by the Republican Governors Association's Right Direction Wisconsin Political Action Committee which spent $9.4 million to support Governor Scott Walker but identified only $12,833 in direct contributions during the first six months of the year.

In other cases, organizations reported large contributions from themselves. The Greater Wisconsin Committee supports Democratic candidates for statewide office and the legislature with four different entities that report their fundraising and spending with varying degrees of transparency, and routinely transfers money from one arm to another. For instance, Greater Wisconsin's 527 group – so-named for the U.S. Internal Revenue Service rules that govern it – contributed $2.25 million to the Greater Wisconsin Political Independent Expenditure Fund, a corporation. Even though the 527 group files fundraising and spending reports with the IRS, it is unknown which of those contributions coming from individuals and other Democratic-leaning groups were spent on the recalls. Another of the corporation's biggest contributors was the Democratic Governors Association which raises money to support Democratic candidates for governor. The association gave Greater Wisconsin's corporation $2.44 million of the $16 million the association raised from a slew of wealthy corporate and labor interests around the country to help Democratic candidate Tom Barrett.

Finally, there were more than $1 million in unnamed contributions – only identified as "unitemized" or "anonymous" – to liberal and conservative ideological groups that accept money from an array of wealthy individual and corporate special interests. The largest amount of these secret contributions was reported by the National Rifle Association's state corporation which received a lump sum $661,351 in "unitemized" contributions.
Hard To Track Fundraising
The outside groups that tried to influence one or both of the recall elections raised $40.1 million from donors who are difficult to track. The donors include candidate and political party committees and special interest groups that file their own reports identifying their individual and PAC contributors, as well as labor unions that file campaign finance reports or whose trade names provide a glimpse of the professions behind the contributions, such as teachers, police, firefighters, painters, electricians, food service workers and others.
Topping the list of groups that raised the bulk of their money from these sources was:
We Are Wisconsin, a coalition of mostly national labor unions that operated a PAC and a corporation that raised $21.9 million and spent $14.5 million to back Democratic candidates in the 2011 and 2012 recalls. All but $87,912 of the money it raised came from labor unions, and all but about $417,000 of its contributions came from groups that file campaign finance reports with the state or whose names indicate its special interest support.

We Are Wisconsin's largest backers were the national AFL-CIO which gave it $7.04 million followed by the American Federation of State, County and Municipal Employees at $5.98 million, the Service Employee International Union at $2.22 million, the National Education Association at $1.42 million, the American Federation of Teachers at $1.4 million and the Wisconsin Education Association Council at $798,292.
Wisconsin for Falk, a group formed to support Democratic candidate for governor Kathleen Falk's unsuccessful bid for the Democratic nomination to take on Walker in the June 5 recall. She was defeated by Barrett in the May 8 primary. The group raised $5.38 million and spent $4.49 million to support Falk. Wisconsin for Falk filed reports that showed most of its backing came from unions. Its top contributors were WEAC which gave it $3.79 million, AFSCME which contributed $1.43 million and the United Food and Commercial Workers which gave $100,000.
The Greater Wisconsin Political Independent Expenditure Fund which raised $5.29 million from other unions, liberal groups that disclosed their donors and individual contributors. Its largest financial support came from We Are Wisconsin which gave it $3.84 million followed by America Votes Action Fund at $624,550 and AFSCME's state PAC at $500,000.
For more information about these outside smear groups and what they raised and spent, check out the Hijacking Special Elections and Recall 2011 and Hijacking Campaign 2012 features, as well as the July 25, 2012 report "Recall Race For Governor Cost $81 Million."
Disclosed Fundraising
The outside groups that sponsored mostly negative broadcast ads and mailings in the recall raised only $1.12 million, or about 1 percent of their contributions, from disclosed sources. These contributions – about 20,000 – came from individuals who mostly gave $100 or less. Seventy-four of these contributions were for $1,000 or more. The largest contributors disclosed by the groups were:
Milwaukee philanthropist Lynde Uihlein, a longtime backer of Democratic candidates and causes, who gave $150,000 to the League of Conservation Voters. The group's state PAC and corporation reported raising $528,330 during the 2011 and 2012 recalls, and spent $236,810;
Herzing University executive Stacey Herzing of Milwaukee who contributed $35,000 to the Progressive Change Campaign Committee. The Washington D.C.-based group was created to support Democratic candidates around the country. The committee spent an estimated $1.5 million in the 2011 and 2012 recalls;
Joseph Field, an executive with Entercom Communications in Bala Cynwyd, Pennsylvania who contributed $26,000 to DGA Action Wisconsin which raised $814,422 and spent $35,929 to back Barrett. This is a state corporation created by the national Democratic Governors Association which raises money from a wide array of special interests and funneled an additional $2,435,000 in undisclosed contributions to other outside groups – chiefly Greater Wisconsin – to spend in the 2012 recall race for governor;
Donald Rubin, retired founder of the Rubin Museum of Art and MultiPlan Inc. in New York and Lawrence Hess, a San Diego, California real estate executive round out the top five contributors. Rubin and Hess each gave $25,000 to Wisconsin WOMEN VOTE! The group spent $264,845 in the 2011 Senate recalls. It is the state arm of the Washington D.C.-based Emily's List a longtime supporter of female Democratic candidates for state and federal offices.
The three outside spending groups that reported the most in disclosed individual contributions also raised substantial amounts from partially disclosed and secret donors. Topping the list was:
DGA Action Wisconsin which reported $261,439 in fully disclosed individual contributions. In addition, it received two $250,000 contributions from the National Education Association, the nation's largest teachers union, and the American Federation of Teachers. It also reported $52,983 in undisclosed contributions.
The League of Conservation Voters Independent Expenditure Committee and PAC which reported $198,560 in disclosed individual contributions – most of which came from Uihlein and a handful of other big contributors. The corporation and PAC also received $219,770 in partially disclosed contributions from its other corporation, unions and a couple of candidate committees that reported their fundraising and $110,000 in undisclosed contributions from its 527 group.
Wisconsin WOMEN VOTE! which raised $151,990 individual contributions. The group, which reported raising a total of $462,987, also accepted $186,497 in partially disclosed contributions and $124,500 in undisclosed contributions from itself.