Two-thirds of the nearly $101 million candidates and special interest smear groups reported spending for campaign services in the 2011 and 2012 recall elections was paid to vendors outside Wisconsin, a Wisconsin Democracy Campaign review shows.

Recall Groups, Candidates Spent $69M Outside State
$2 of every $3 for campaign services was paid to non-Wisconsin companies
December 11, 2012
Madison –
Recall candidates and groups paid $32 million for campaign-related services to Wisconsin businesses and groups and $68.8 million for consulting, printing, mailing, media and other services to businesses and groups in 40 other states and the District of Columbia (see pie chart).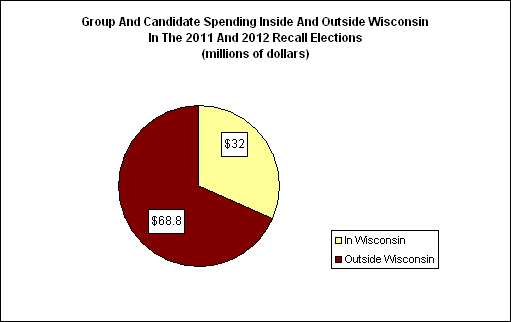 The findings were compiled from a review of about 13,500 expenses in campaign finance reports filed by the candidates for governor, lieutenant governor and 13 state senate seats who spent $56.3 million and 54 outside electioneering groups that spent $44.5 million on independent expenditures to influence the recall races.
The analysis does not include an estimated $31.3 million spent on outside electioneering activities by phony issue ad groups because of a loophole in outdated campaign finance laws that allows them to keep secret their fundraising and spending for smear ads, mailings, robocalls and other activities because these groups do not directly tell people to vote for or against a candidate like independent expenditure groups do.
More than half of the total candidate and group spending – about $56.1 million – was used for television and radio ads so a substantial portion of the money paid to out-of-state outfits to produce and place those ads came back to the Wisconsin media outlets that aired them.
Top recall spending for political services outside Wisconsin (Table 1) totaled $19.4 million in the District of Columbia, $11.5 million in Pennsylvania and $7.1 million in both California and Virginia.
Most of the $32 million paid to Wisconsin businesses for campaign services was spent by the recall candidates – about $29.3 million. Electioneering groups paid only $2.7 million of the total $44.5 million they spent to Wisconsin entities. The groups paid the bulk of their money – about $31.1 million – to vendors located in the District of Columbia, California and Pennsylvania.
It is likely the reason special interest electioneering groups spent so much of their cash outside Wisconsin was because many of them were located outside the state or received the bulk of their funding from outside Wisconsin.
After the $52.5 million spent on television ads, candidates and groups also spent $13.1 million on mailing services, $6 million on campaign staff wages and $5.7 million on consulting (Table 2).
Fifteen companies, a union and a state political party were paid $1 million or more each by the recall candidates or groups for campaign services and collected $71.2 million of the total spent (Table 3). Only two of those vendors – the state Republican Party and Nonbox, a Hales Corners advertising company – are located in Wisconsin.
Nonbox received the most paid out by recall candidates and groups at $17 million – all by Republican Governor Scott Walker's campaign mostly for television advertising.
The New Media Firm, a Washington D.C.-based advertising agency, was paid $9.8 million. The company was used by a half dozen Democratic groups, including the Greater Wisconsin Committee, We Are Wisconsin Political Action Committee and Wisconsin for Falk for television and online ad buys to support Democrats in the recalls.
The Campaign Group, a Philadelphia, Pennsylvania-based advertising agency, received $7 million from Greater Wisconsin and Wisconsin for Falk for television ad buys to support Democratic candidates.
Rounding out the top five paid businesses by candidates and groups involved in the 2011 and 2012 recall elections were Target Enterprises of Encino, California and SCM Associates in Dublin, New Hampshire which each received about $6.8 million for their services.
Target Enterprises was used exclusively by the Republican Governors Association's state political action committee – Right Direction Wisconsin PAC – for television ad buys that attacked Democratic candidates for governor Tom Barrett and Kathleen Falk. SCM Associates was paid for mailing services it provided to Walker who spent nearly $6.6 million, incumbent Republican Senator Alberta Darling of River Hills who spent $205,965 and former Republican Senator Van Wanggaard of Racine who spent $4,456.
The independent expenditure groups involved in the 2011 and 2012 recalls reported nearly 5,000 expenditures that totaled $44.5 million, and the nature of the spending confirmed the public's perception that modern campaigns are highly negative operations designed to smear candidates rather than educate voters about their stance on important issues and solutions to pressing problems.
The Democracy Campaign analysis found 69 percent, or $30.6 million, of the total spent by independent expenditure groups was for negative broadcast ads, mailings and other electioneering activities and $13.9 million or 31 percent was spent to support a candidate. The finding supports the public's sentiment that most state and federal campaigns have become overwhelmingly negative and that outside special interest groups that thrive from secret fundraising and spending are a major reason why.
Table 1
2011 and 2012 Candidate and Group Recall Spending By State
(in Millions)
| State | Amount |
| --- | --- |
| Wisconsin | $32.0 |
| District of Columbia | $19.4 |
| Pennsylvania | $11.5 |
| California | $7.1 |
| Virginia | $7.1 |
| New Hampshire | $6.8 |
| Illinois | $4.6 |
| Minnesota | $2.3 |
| Georgia | $1.7 |
| Utah | $1.5 |
| All Others | $6.8 |
| TOTAL | $100.8 |
Table 2
2011 and 2012 Candidate and Group Recall Spending by Category
(in Millions)
| Expense | Amount |
| --- | --- |
| Television | $52.5 |
| Mailing Lists and Services | $13.1 |
| Wages – Campaign Staff | $6.0 |
| Consulting – General and Media | $5.7 |
| Radio | $3.6 |
| Printing – Brochures | $3.2 |
| Online Advertising | $2.5 |
| Administrative | $2.1 |
| Solicitation | $2.0 |
| Phones – Robocalls | $1.0 |
| All Other Expenses | $9.1 |
| TOTAL | $100.8 |
Table 3
Top Recipients* of 2011 and 2012 Recall Candidate and Group Spending
(in Millions)
| Vendor | Location | Service | Amount |
| --- | --- | --- | --- |
| Nonbox (William Eisner & Associates) | Hales Corners, WI | TV advertising | $17.0 |
| The New Media Firm | Washington D.C. | TV advertising | $9.8 |
| The Campaign Group | Philadelphia, PA | TV advertising | $7.0 |
| Target Enterprises | Encino, CA | TV advertising | $6.8 |
| SCM Associates | Dublin, N.H | Mailing service | $6.8 |
| Shorr Johnson Magnus | Philadelphia, PA | TV advertising | $4.3 |
| Adelstein/Liston | Chicago, IL | TV advertising | $3.6 |
| Mack/Crounse Group | Alexandria, VA | Printing, mailing | $2.1 |
| AFSCME | Washington D.C. | Phones, Staff wages | $2.0 |
| Republican Party of Wisconsin | Madison, WI | Wages | $1.9 |
| On Message | Crofton, M.D. | Media consulting | $1.8 |
| FLS Connect LLC | St. Paul, MN | Solicitation | $1.7 |
| On Target Public Affairs | Atlanta, GA | Mailing service | $1.5 |
| Arena Communications | Salt Lake City, UT | Mailing service | $1.5 |
| Field Strategies | Washington D.C. | Consulting | $1.3 |
| Pound Feinstein and Associates | Washington D.C. | TV advertising | $1.1 |
| Envision Communications | Chicago, IL | TV, radio advertising | $1.0 |
*Table shows vendors who receive $1 million or more from recall candidates and groups