Wealthy out-of-state special interests continued to flood Wisconsin with millions of dollars in contributions in 2013 – a trend that began a few years earlier with unprecedented recall elections that drew national attention from big-money donors.

Outside Money Becoming Fixture
Walker, partisan divide fueled out-of-state contributions in 2013
July 8, 2014
Madison – Wealthy out-of-state special interests continued to flood Wisconsin with millions of dollars in contributions in 2013 – a trend that began a few years earlier with unprecedented recall elections that drew national attention from big-money donors.
Large individual out-of-state contributions to legislative and statewide officeholders and candidates in 2013 totaled $4.11 million. That's not a record for an odd-number, non-election year but that's what's telling and alarming about the 2013 total. Out-of-state contributions for 2013 were only about $51,000 lower than the record $4.16 million set for an odd-numbered year in 2011 yet the two years couldn't be more different:
2011 featured nine state Senate recall races in which the targeted incumbents could accept unlimited individual and political action committee contributions for months before the election date was set. The elections determined whether the Republicans would continue to control the Senate, as well as the Assembly and the governor's office, and move their policy and spending agenda forward at will. In addition, it was already known Governor Scott Walker and other state senators would face recall in 2012, prompting them to ramp up their fundraising activities early. The state's recalls and the state-versus-labor union fight drew national attention from media and moneyed interests for most of the year ;
In contrast, 2013 featured relatively quiet spring races for the Wisconsin Supreme Court and state school superintendent with heavily favored incumbents, and four special elections for Assembly seats safely held by Republicans who hold a substantial 60-39 Assembly majority.
A record $17.2 million in out-of-state contributions flowed to Wisconsin legislative and statewide candidates in 2012.
Before 2011, annual out-of-state fundraising fluctuated, ranging from $301,403 to $2.03 million a year between 2003 and 2010. Total large individual out-of-state contributions were under $1 million in five of those eight years (see Bar Chart below).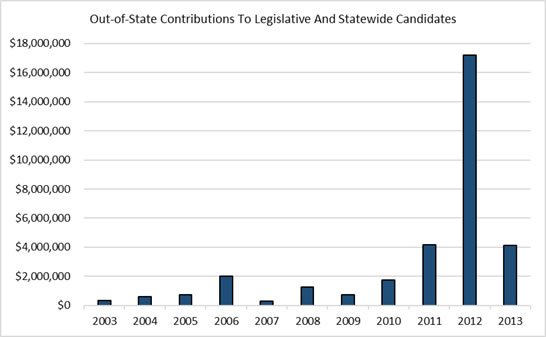 The figures suggest large amounts of out-of-state contributions to Wisconsin legislative and statewide candidates will become a trend because of the harsh partisan divide between special interests whose contributions fund Republicans and Democrats, and federal court decisions that have unleashed secret spending by outside groups and removed aggregate limits on individual campaign contributions to candidates.
The most recent, significant ruling by the U.S. Supreme Court prompted Wisconsin to drop its $10,000 limit on total individual contributions to all state and legislative candidates, parties and political committees in a year. A Democracy Campaign review found millionaire and billionaire contributors – both inside and outside the state – will be able to dump more than 600 times the old annual limit – $6 million plus – into Wisconsin state and local elections.
As was the case in 2011 and 2012 because of the recall elections, Republican Governor Scott Walker was the largest recipient of out-of-state campaign cash in 2013. Walker received $3.73 million in large individual out-of-state contributions in 2013 – 91 percent of the total $4.11 million to all Wisconsin candidates, and 53 percent of the $7.06 million in total large individual contributions he raised that year.
After Walker other top recipients of large individual out-of-state contributions in 2013 (Table 1) were his likely Democratic opponent this fall, Mary Burke, at $159,784 and conservative Wisconsin Supreme Court Justice Pat Roggensack who won reelection in 2013 to a second, 10-year term on the bench at $44,095.
Table 1
Top* 2013 Out-of-State Large Individual Contributions
| Name | Party | Office | Amount |
| --- | --- | --- | --- |
| Walker, Scott | R | G | $3,726,041 |
| Burke, Mary | D | G | $159,784 |
| Roggensack, Pat | NP | SC | $44,095 |
| Kleefisch, Rebecca | R | LG | $27,600 |
| Van Hollen, JB | R | AG | $26,161 |
| Republican Assembly Campaign Committee | R | A | $12,200 |
| Fitzgerald, Scott | R | S13 | $12,125 |
| Committee to Elect a Republican Senate | R | S | $11,975 |
* Table shows recipients of $10,000 or more in out-of-state large individual contributions in 2013
By interest group, out-of-state contributors identified in candidate reports as retirees or homemakers led with $1.19 million in large individual contributions to Wisconsin candidates in 2013 (Table 2) followed by banking and financial industry executives who doled out $553,639. The interest group for more than a third of a million dollars in out-of-state contributions is unknown because the employer or occupation of the donor was not reported or could not be determined.
Numerous out-of-state donors contribute to Wisconsin candidates to preserve and expand the state's controversial school voucher program. Those wealthy contributors span business, manufacturing and several other traditional special interest categories but individuals tied to the school voucher issues through their public statements and support of the programs in Wisconsin and elsewhere contributed $171,290 to state candidates in 2013.
Accepting the lion's share of campaign cash from school voucher supporters was Republican Governor Scott Walker at $94,500 and Roggensack at $37,750. In addition to direct contributions, many of these same rich backers of school vouchers have paid for a barrage of negative broadcast ads, mailings and other electioneering activities sponsored by the Washington D.C.-based American Federation for Children which has spent an estimated $4.4 million since 2010, including $110,002 in three Assembly special elections in 2013, in Wisconsin elections.
Table 2
2013 Out-of-State Large Individual Contributions By Interest Group
| Special Interest | Amount |
| --- | --- |
| Retired/Homemakers/Non-income earners | $1,194,398 |
| Banking & Finance | $553,639 |
| Unknown | $371,822 |
| Manufacturing & Distributing | $249,439 |
| Construction | $234,677 |
| Business | $218,562 |
| Natural Resources | $174,783 |
| Real Estate | $147,413 |
| Tourism/Leisure/Entertainment | $146,159 |
| Health Services/Institutions | $141,806 |
| Transportation | $132,927 |
| Lawyers/Law Firms/Lobbyists | $100,419 |
| Health Professionals | $68,001 |
| Political/Ideological | $63,985 |
| Insurance | $59,125 |
| Agriculture | $53,040 |
| Education | $45,147 |
| Non-Profit/Social Services | $40,724 |
| Energy | $33,885 |
| Telecommunications & Computers | $30,783 |
| Road Construction | $28,000 |
| Civil servant/public employee | $12,782 |
| Defense | $5,677 |
| Labor Unions | $113 |
| TOTAL | $4,107,306 |
A billionaire school voucher backer from Michigan topped the list of the more than 8,100 individuals and couples from outside the state who contributed between $100 and $43,300 to Wisconsin candidates in 2013. One-hundred twenty-four individuals or couples doled out $10,000 or more and 29 wealthy outsiders gave $20,000 or more to Wisconsin candidates (Table 3).
Dick DeVos, son of Amway Corporation founder Richard DeVos, and his wife Betsy of Grand Rapids, Michigan contributed $43,300 in 2013 to Wisconsin legislative and statewide candidates. DeVos was an unsuccessful GOP candidate for Michigan governor in 2006 and his wife Betsy is one of the leaders of the American Federation for Children and its predecessor All Children Matter. The couple created
Alticor, the parent company of Amway and its subsidiaries, and Windquest Group, an investment management firm. Walker and Roggensack received most of the couple's contributions – $20,000 each.
Behind the DeVoses were Rufus and Patricia Lumry of Bellevue, Washington who contributed $24,000 in 2013 – all to Walker. Rufus Lumry founded Acorn Ventures, an early stage investment fund. Lumry and his wife are long-time backers of mostly state and federal Republican candidates and committees.
Rounding out the top three out-of-state donors were Richard and Elizabeth Uihlein of Lake Forest, Illinois and founders of U-Line, a distributor of shipping and packaging supplies throughout North America. The Uihleins have been major backers of Republican state and federal candidates and committees and conservative groups and causes for decades. The couple contributed $22,000 to Wisconsin candidates in 2013, including $15,000 to Walker and $5,000 to Lieutenant Governor Rebecca Kleefisch.
Table 3
Top* Out-of-State Contributors In 2013
Name
City
State
Employer/Occupation
Amount
DeVos, Dick & Betsy
Grand Rapids
MI
Alticor/ Windquest
$43,300
Lumry, Rufus & Patricia
Bellevue
WA
Acorn Ventures/ Homemaker
$24,000
Uihlein, Richard & Elizabeth
Lake Forest
IL
U-Line
$22,000
Goodman, John & Cayenne
Frisco
TX
Goodman Family Foundation
$20,000
Jenkins, Howard & Patricia
Tampa
FL
Retired
$20,000
Hiles, Marcus & Nancy
Fort Worth
TX
WRPS LP/ Homemaker
$20,000
Hubbard, Stanley & Karen
St Paul
MN
Hubbard Broadcasting
$20,000
Friess, Foster & Lynnette
Jackson
WY
Friess Associates
$20,000
Dunn, Timothy & Terri
Midland
TX
CrownQuest/ Retired
$20,000
Johnson, Willis & Reba
Franklin
TN
Copart / Homemaker
$20,000
Devos, Richard & Helen
Grand Rapids
MI
Alticor/ Homemaker
$20,000
Hanley, William & Alice
Palm Beach
FL
Lexington Management Group
$20,000
Colburn, Keith & Richard
Northbrook
IL
CED Management Services Inc./
Payroll and Insurance Group Inc.
$20,000
Luddy, Robert & Maria
Raleigh
NC
CaptiveAire/ Homemaker
$20,000
Hayden, Jerry & Marilyn
Scottsdale
AZ
Retired
$20,000
Dyer, Don & Estela
Austin
TX
Professional Janitorial Service (PJS)/
Homemaker
$20,000
Devos, Daniel & Pamella
Grand Rapids
MI
DP Fox Ventures LLC/ Homemaker
$20,000
Kovner, Bruce & Suzie
New York
NY
Caxton Alternative Management LP/
Homemaker
$20,000
Jonas, Jeff & Sharon
Park City
UT
Red Bell Real Estate/ Homemaker
$20,000
Hertog, Roger & Susan
New York
NY
Retired
$20,000
Ryan, Patrick & Shirley
Winnetka
IL
Ryan Specialty Group/ Homemaker
$20,000
McMahon, Brett & Allyson
Baltimore
MD
Miller & Long/ Homemaker
$20,000
McNair, Robert & Janice
Houston
TX
Houston Texans/ Homemaker
$20,000
Smith, Thomas & Dianne
Palm Beach
FL
Prescott Investors/ Homemaker
$20,000
Sinquefield, Rex & Jeanne
Westphalia
MO
Show-Me Institute
$20,000
Questrom, Allen & Kelli
Dallas
TX
Retired
$20,000
Sagui, Gary & Maureen
Wilmette
IL
Templar Securities/ Homemaker
$20,000
Simmons, Harold & Annette
Dallas
TX
Contran/ Homemaker
$20,000
Perez, William & Catherine
Chicago
IL
Greenhill/ Homemaker
$20,000
*Table shows individuals and couples who gave $20,000 or more in 2013