A Milwaukee lawyer whose father leads a foundation that has poured millions of dollars into conservative causes nationwide has been appointed to the University of Wisconsin Board of Regents by Republican Gov. Scott Walker, a possible 2016 presidential candidate.

Grebe, Bradley Reap Regent Reward from Walker

May 27, 2015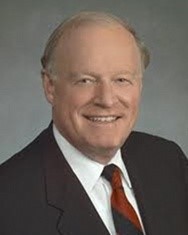 Michael W. Grebe
Bradley Foundation president
A Milwaukee lawyer whose father leads a foundation that has poured millions of dollars into conservative causes nationwide has been appointed to the University of Wisconsin Board of Regents by Republican Gov. Scott Walker, a possible 2016 presidential candidate.
The appointee, Michael M. Grebe, is executive vice president and general counsel for HUSCO International, which manufactures hydraulic components, and a former partner with the Quarles & Brady law firm. Grebe, and his wife, Katherine, a MillerCoors brewing company executive, contributed $13,000 to Walker's campaign between January 2010 and December 2014. Grebe's nomination to the UW Board of Regents must be approved by the state Senate, which is controlled by Republicans.
Michael M. Grebe is also the son of Michael W. Grebe, president of the Bradley Foundation since 2002. The elder Grebe was chairman of Walker's campaign committee during his three successful runs for governor in 2010, 2012 and 2014. Michael W. Grebe also contributed $25,000 to Walker's campaign between January 2010 and December 2014.
The Milwaukee-based Bradley Foundation is a nationally known backer of numerous conservative causes, including school vouchers, voter identification, collective bargaining restrictions and welfare reform.
The foundation has also supported numerous conservative think tanks and policy organizations, and some of these groups supported Republican candidates in the state's 2011 and 2012 recall elections, which were spurred by Walker's successful effort to curb public employee collective bargaining rights. Groups that have drawn Bradley Foundation support over the years include the Wisconsin Club for Growth, Americans for Prosperity, Center for Union Facts, MacIver Institute for Public Policy, Federalist Society and the Wisconsin Institute for Law & Liberty.