Republican legislators raised about one-third more per capita than Democratic lawmakers during the first six months of 2015 and had 75 percent more money in their campaign accounts as of June 30, according to a Wisconsin Democracy Campaign review of recently filed campaign finance reports.

Republican Lawmakers Smoke Dems in Fundraising

August 13, 2015

Overall, the campaign finance reports showed all legislators and legislative fundraising committees raised nearly $1.6 million between January and June 2015.

By party, Republicans, who controlled the Assembly by a margin of 63-36 and the Senate by a margin of 19-14, raised more than twice as much as Democratic lawmakers, and also had nearly three times more in their campaign accounts as of June 30. Republican legislative committees collectively raised $1.08 million and Democrats raised $511,701 during the first six months of 2015. Republican legislative committees had more than $2.7 million in their campaign coffers, compared to about $1 million for Democratic legislative committees.

By caucus, Assembly Republicans outraised Assembly Democrats by more than $100,000 and Senate Republicans raised three times more than Senate Democrats (Table 1) between January and June 2015.

Table 1
Total Fundraising by Legislative Caucus
January – June 2015
| Legislative Caucus | Amount |
| --- | --- |
| Assembly Republicans | $401,083 |
| Assembly Democrats | $298,429 |
| Senate Republicans | $678,907 |
| Senate Democrats | $213,272 |
| TOTAL | $1,591,691 |
But even though legislative Republicans significantly outnumber Democrats as a whole, Republicans still raised and saved more campaign cash than Democrats per capita. Republican legislative committees raised $13,171 per capita, or 34 percent more than Democrats, who raised $9,840 per capita. And Republican legislative committees had about $33,500 per capita in their campaign accounts as of June 30, or about 75 percent more than Democrats, who stashed away about $19,200 per capita.
Overall, total legislative fundraising came to nearly $1.6 million, roughly on par with what legislators raised during the first six months in most previous odd-numbered years since 2001 (Bar Chart), except for the first six months of 2011 when legislative committees raised a record $6.8 million.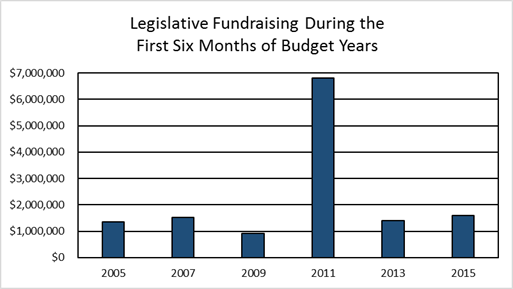 Legislative fundraising during the first six months of 2011 was extraordinarily high because nine state senators targeted for recall elections that summer were allowed to raise unlimited contributions for several weeks during the six-month period. Fundraising during the first half of 2009 was unusually low because Democrats who controlled the Assembly passed a rule that banned fundraising while the legislature was considering the 2009-11 state budget.
Most of the contributions to legislative committees in the first half of 2015 were raised by only four committees that are used by Republican and Democratic Senate and Assembly leaders to tap wealthy special interests for campaign cash to spend on elections. The committees, which were the top legislative fundraisers (Table 2), raised nearly $811,000 while personal legislative campaign committees accepted about $781,000.
Table 2
Legislative Campaign Committee Fundraising
January – June 2015
| Committee | Fundraising |
| --- | --- |
| Republican Assembly Campaign Committee | $268,496.79 |
| Committee to Elect a Republican Senate | $214,531.45 |
| Assembly Democratic Campaign Committee | $169,412.01 |
| State Senate Democratic Committee | $158,521.40 |
| TOTALs | $810,961.65 |
See the links below to find out how much your legislator raised during the first six months of 2015.
All Legislators