Agricultural interests, which contributed $2.6 million to Republican Gov. Scott Walker and current legislators in recent years, support a legislative proposal that would reduce state oversight of controversial high-capacity wells.

Bill Would Reduce State Oversight of Controversial High-Capacity Wells

Posted: September 15, 2015
Updated: September 16, 2015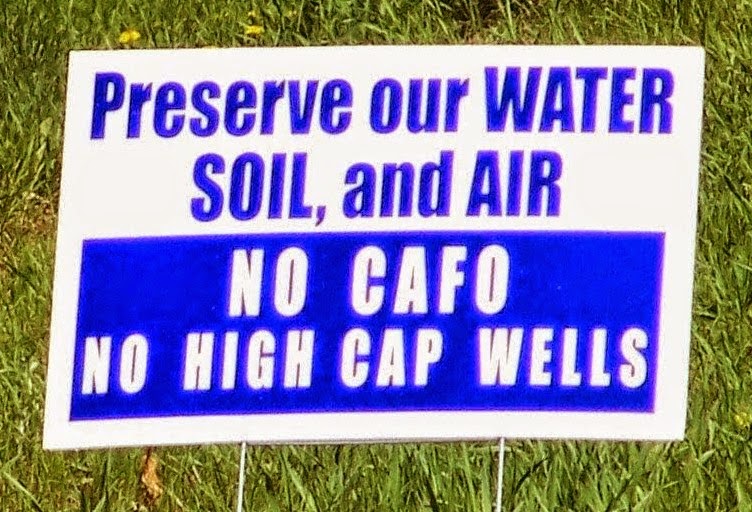 The measure, Senate Bill 239, would allow current high-capacity well owners to repair, replace, move or transfer their wells in a property sale without state review and approval. New high-capacity wells will continue to need state approval, under the bill. Current state law requires the Department of Natural Resources (DNR) approval before a high-capacity well can be built or operated. A high-capacity well is defined as one that draws more than 100,000 gallons of water a day.
The bill is supported by the Wisconsin Farm Bureau Federation, the state's largest agriculture organization and one of the most influential lobbying groups in the state. Overall, agriculture interests contributed more than $1.7 million to Walker and nearly $853,000 to current legislators between January 2010 and December 2014. Combined, the bill's author, GOP Sen. Rick Gudex, of Fond du Lac, and its 18 Republican co-sponsors took in nearly $239,000 in campaign contributions from the agriculture industry during this period.
Large-scale vegetable growers and livestock operations, often called factory farms, are among the top users of high-capacity wells in the agriculture industry. Factory farm owners and employees were also among the agriculture industry's top individual campaign contributors, and one of them also spent tens of thousands of dollars lobbying during the first six months of 2015 on developing groundwater legislation.
Topping the list of contributions from factory farm operators were the owners and employees of Milk Source, in Kaukauna, who gave about $164,000 to Walker and current legislators between January 2010 and December 2014. Most of the contributions from Milk Source, which runs about a half-dozen farm operations around the state, were doled out by its owners: John and Keri Vosters, of Freedom, $60,700; Todd Willer, of Freedom, $47,100; and James Ostrom, of De Pere, $37,750.
Last year, Milk Source's Richfield Dairy in Adams County was involved in a legal challenge, which it won, in which a state administrative law judge blasted the DNR for using narrow guidelines to assess and grant permits for high-capacity wells.
Behind Milk Source was Wysocki Produce Farm, of Bancroft, which is a 13,000-acre potato farm with 3,500 head of dairy cattle. Owners and employees contributed about $43,500 to Walker and current legislators between January 2010 and December 2014, including James and Sharon Wysocki, of Custer, $12,627; Kirk and Jacqueline Wille, of Custer, $5,900; and Russell and Diane Wysocki, of Custer, $5,250.
Combined, the owners and employees of Milk Source and Wysocki Produce contributed about $207,000 between January 2010 and December 2014 to Walker and current members of the legislature. All but $100 went to Republicans. Walker was the top recipient of Milk Source and Wysocki Produce contributions, raking in nearly $167,000, followed by Republican Sen. Frank Lasee, of De Pere, $9,500; and GOP Rep. John Macco, of Ledgeview, $6,000.
In addition to the campaign contributions, Wysocki Produce Farm also hired a lobbyist and spent $57,000 during the first six months of 2015 lobbying on the development of groundwater legislation.  A report filed with the DNR in August by the Wysocki Family of Companies showed that groundwater testing at the company's Central Sands Dairy in the town of Armenia in Juneau County, which has about 3,800 cows, showed nitrate levels higher than state drinking water standards. 
SB239, which was introduced last month, is opposed by environmental groups and the Wisconsin Farmers Union which argue that periodic state reviews of high-capacity wells would ensure that groundwater, which feeds lakes, rivers, streams and smaller, private wells, is not being dangerously depleted. Opponents also argue the bill forces future farmers to compete with current farmers for their water needs rather than balancing water usage in a given area.