A coalition of groups came together this morning in front of the Madison City-County Building to honor National Voter Registration Day and to urge every citizen to get registered. A few speakers also decried the obstacles to registering and to voting that the Republican leaders in the State Capitol have erected.

Celebrating National Voter Registration Day

September 22, 2015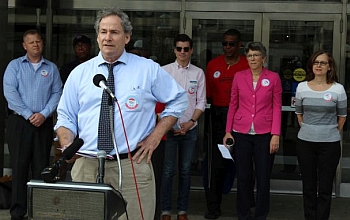 Maribeth Witzel-Behl, the clerk of the city of Madison, announced that election officials would be registering voters and providing information about voter ID at 29 locations in Madison today.
Andrea Kaminski, the executive director of the League of Wisconsin Voters of Wisconsin, stressed that every citizen "has the right to cast a ballot." She urged people to "be ready to vote on Election Day," and she recommended that people shouldn't wait to register until Election Day but should do it beforehand. She pointed out that people can register online at https://myvote.wi.gov. "Become an active voter," Kaminski said.
Sandra Miller, director of information services and outreach for Common Cause in Wisconsin, said, "National Voter Registration Day is the closest thing to a national voting holiday that we have." She said we should celebrate it by making sure we're registered to vote, and by helping our family, friends, and neighbors to register. "Stare down our cynicism and our complacency," Miller said. "Embrace hope, pride, and the ability to participate."
Isadore Knox, the political action chair of the NAACP Dane County, said, "We know how important voting is, especially for people who have been disenfranchised." He urged everyone to "educate people on what you need to do to exercise the right to vote."
To register, you need to supply proof of residency, and if you have a valid driver's license with your current address on it, that will do, as will other government documents (including hunting and fishing licenses), a recent utility or bank bill, a paycheck stub, a current lease, or an affidavit from a public or private agency providing homeless services. Then take those documents with you to your city clerk's office or mail copies of them in with your registration form that you get online.
Nino Amato, executive director of the Coalition of Wisconsin Aging Groups, warned that "172,000 seniors are being disenfranchised" by the Voter ID law because they don't have driver's licenses. (You don't need a photo ID to register, but you will need one to vote on Election Day.) "The real tragedy," said Amato, "is the politics of voter suppression."
Matt Rothschild, the executive director of the Wisconsin Democracy Campaign, said: "If the past five years have taught us anything, it's that voting makes a difference, especially in local and statewide elections." He denounced moves by the "hyper-partisan" Republican legislature and the governor, who are "making it more difficult every step of the way for people to register and to vote."
Other groups supporting the press conference included Centro Hispano, Fair Elections Wisconsin, People for the American Way, the Urban League of Greater Madison, WisPIRG, and Wisconsin Voices.