October 21, 2015
A Republican lawmaker who co-signed a letter asking the attorney general to investigate the state's campaign finance and elections watchdog for open meetings violations cost the state $15,000 in damages and lawyer's fees in an open records case.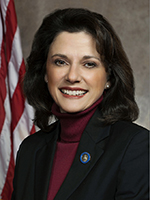 Senator Leah Vukmir
State Sen. Leah Vukmir, of Wauwatosa, was among nine GOP lawmakers who asked Republican Attorney General Brad Schimel to investigate whether Government Accountability Board (GAB) members engaged in "walking quorums" to make decisions. Generally, walking quorums violate the Open Meetings Law when members of a government decision-making body communicate one-on-one or in small groups in order to reach decisions on matters before meeting in public on those matters.
Last year, Vukmir settled a 2013 lawsuit filed by the Center for Media and Democracy, a liberal advocacy group, over documents the group requested from her private email account involving the American Legislative Exchange Council (ALEC). ALEC is a corporate bill mill that unites powerful business interests with state legislators across the country in private meetings to create "model" legislation that can be introduced at the state level. ALEC claims its internal documents and emails are exempt from state open records laws.
The center sued Vukmir after it believed she did not provide all the records it requested. As part of the settlement, Vukmir acknowledged that ALEC's confidentiality claim was not valid in Wisconsin, and that personal email records are subject to the state's Open Records Law. Vukmir also agreed to $12,500 in lawyer's fees and $2,500 in punitive damages, which was paid by the state.
Vukmir and majority Republicans in the Assembly and Senate are poised to approve measures, Assembly Bill 388 and Senate Bill 294 , that would dissolve the nonpartisan GAB and replace it with two partisan commissions to administer and enforce the state's campaign finance, ethics, election and lobby laws. The bills were introduced because GOP lawmakers are angry over GAB's role in a secret John Doe investigation into illegal campaign coordination between conservative groups and Republican Gov. Scott Walker's campaign during the state's 2011 and 2012 recall elections. Republicans also claim the GAB renders decisions favorable to Democrats.
A GAB spokesman said the process GAB members and staff use to communicate is expressly designed to prevent walking quorums. Bill Lueders, president of the Wisconsin Freedom of Information Council, said there wasn't enough evidence to know whether the board members broke the Open Meetings Law, which allows board members to discuss matters as long as they don't reach decisions on them.