A Republican lawmaker says his bill to cut nearly six dozen state tax auditors is a business friendly move, and the state's most powerful business group supports the measure.

Author Says Bill To Cut Tax Auditors is Business Friendly Move

October 26, 2015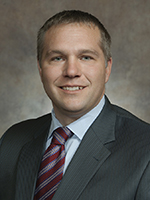 Rep. Adam Jarchow
A Republican lawmaker says his bill to cut nearly six dozen state tax auditors is a business friendly move, and the state's most powerful business group supports the measure.
Rep. Adam Jarchow, of Balsam Lake, sponsored the measure, Assembly Bill 402, which has drawn support from Wisconsin Manufacturers & Commerce (WMC), the state's largest business organization, and the Wisconsin Grocers Association.
The bill would cut 70 of the 102 new tax auditor positions created in the Department of Revenue by the 2015-17 state budget, which was approved by the GOP-controlled legislature and Republican Gov. Scott Walker in July. A legislative analysis predicted that each new full-time tax auditor could generate an additional $1 million in state tax collections over two years. The legislative analysis said most of the new tax auditors would concentrate on large and small business audits and sales and use tax investigations because those are the highest areas on noncompliance.
Jarchow said 70 of the new positions are no longer necessary because the state collected about $71 million more revenue in the last biennium than originally predicted. In a statement about his bill, Jarchow also goes into a lengthy lament about the hassles that state audits cause for business:
"It (an audit) means taking time otherwise spent growing the business to pour over boxes of paperwork. It often means paying a CPA or attorney (or both) thousands of dollars to help with the process. We know that the vast majority of businesses in this state are trying to do the right thing and follow the law. We also know mistakes are made. However, the cost and fear suffered by a business owner when audited is significant.
"Small businesses have a hard enough time staying afloat without the time and energy needed to comply with an audit."
Jarchow's comments on the bill, which was introduced Oct. 13, echo part of a statement made early last July by WMC, which praised the tax cuts approved in the 2013-15 state budget but added: "Overall, we are gravely concerned that the budget includes the hiring of 100 new tax auditors. Hiring dozens of additional tax collectors is not a recipe for attracting investment, and it sends the wrong signal about Wisconsin's tax friendliness."
Among Jarchow's top contributors in 2014, the year he was elected to the Assembly, were Mark and Deb Kravik, of Osceola, former owners of Northwire, Inc., and their daughter, Katina, of Tucson, Ariz., $1,250; Kevin and Emily Lindus, of Luck, owners of Lindus Construction, $1,000; and Chris and Michelle Nelson, of Balsam Lake, owners of Nelson Construction Services, $1,000.