Legislative proposals backed by big business, lawyers, utilities and the insurance industry at the expense of consumers, workers and local control are among the bills the state Assembly is scheduled to act on today.

Assembly Plans Action on Bills Favored by Special Interest Contributors

November 3, 2015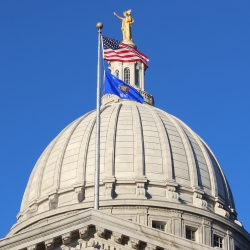 The measures include:
Assembly Bill 212, which increases the penalties for fraudulent unemployment compensation claims. In addition to current penalties and refunds in state law, the bill would ban workers from being able to collect unemployment compensation for seven years after a second incident of misrepresenting facts on their applications;
AB223, which reduces the time limit from six years to three years for insurance claims from injuries and property damage in auto accidents;
Senate Bill 286, which reduces the liability that dog owners and their insurance companies are responsible for when pets injure people or damage property;
AB319, which gives natural gas utilities expanded condemnation authority for building natural gas distribution lines on public lands;
AB117, which changes the quality and quantity of information – known as pleadings requirements – which consumers are entitled to in lawsuits brought by debt collectors.
All of the bills are likely to pass because they were sponsored by Republicans, who control the Assembly by a 63-36 margin, and be sent on the Senate, which is also controlled 19-14 by GOP lawmakers. No Democratic lawmakers have signed on to any of the bills.
AB212 is supported by Wisconsin Manufacturers & Commerce (WMC), the state's largest business organization, and two other state business groups, and the tourism industry. WMC boasts 3,500 members who cover more than a dozen special interest groups, like business, manufacturers, insurance, real estate, construction and health care. Special interests represented by WMC contributed about $11.2 million between January 2011 and June 2015 to current Republican legislators.
AB223 is backed by the insurance industry, which contributed about $847,000 between January 2011 and June 2015 to current Republican legislators. Top recipients of insurance industry campaign contributions were the Committee to Elect a Republican Senate (CERS), $80,517, the Republican Assembly Campaign Committee (RACC), $72,600, and Sen. Alberta Darling, of River Hills, co-chair of the budget-writing Joint Finance Committee, $52,750. The two legislative committees are used by Senate and Assembly GOP leaders to milk special interests for campaign cash to help elect Republican legislative candidates.
SB286 is supported by insurers, trial lawyers and WMC. All told these interests contributed about $11.8 million to current GOP lawmakers between January 2011 and June 2015.
AB319 is backed by utility interests, which contributed nearly $406,000 between January 2011 and June 2015 to GOP lawmakers. Top recipients of utility industry contributions were RACC, $92,273, CERS, $74,843, and Senate Majority Leader Scott Fitzgerald, of Juneau, $30,810.
AB117 is backed by business interests, which contributed more than $910,000 between January 2011 and June 2015 to current GOP lawmakers. Topping the list of campaign contributions from the business community were CERS, $90,496, Darling, $65,941, and Fitzgerald, $60,264.