Lawmakers Plan Bill to Increase Rail Safety After Derailments
November 12, 2015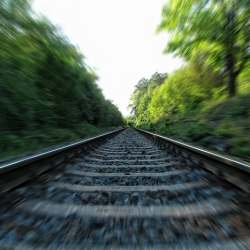 Democratic and Republican lawmakers are circulating legislative proposals that would increase railroad safety for transporting crude oil, chemicals and other hazardous materials after two train derailments in Wisconsin last weekend.
The measures would require railroads to provide prevention and response plans that show how they would handle fire, spill and other derailment disasters. The proposals would also create response timelines for train accidents, and pay for more state rail inspectors and training for first responders.
The Senate and Assembly measures are sponsored by Democratic Rep. Jill Billings, of La Crosse; Democratic Sens. Jennifer Shilling, of La Crosse and Robert Wirch, of Kenosha; and Republican Sen. Jerry Petrowski, of Marathon.
A Burlington Northern Santa Fe (BNSF) freight train derailed last Saturday and spilled up to 20,000 gallons of ethanol in the backwaters of the Mississippi River near Alma. A day later, a Canadian Pacific train derailed in Watertown and spilled about 500 gallons of crude oil that forced the evacuation of about three dozen homes. State and federal authorities are investigating the accidents.
There has been no reaction to the Wisconsin legislative proposals from the railroad and the oil and natural gas industries, which build and use most of the freight cars and whose cost of doing business would be affected by new safety requirements.
Nationally, rail carriers, including BNSF, have been generally opposed to developing oil-spill plans, or disclosing the routes and schedules of trains that carry hazardous products, siting concerns about security and their competition. Incidents of derailments that result in fires and hazardous material spills have increased substantially over the past two years.
Between January 2011 and June 2015, the railroad and oil and natural gas industries contributed nearly $1.2 million to Republican Gov. Scott Walker and another $420,200 to current legislators. Most of the contributions to current legislators – about $354,000 – went to Republicans who control the Assembly and Senate by comfortable margins.
Contributions between January 2011 and June 2015 by the two industries to the bills' sponsors totaled about $7,100 to Petrowski, $4,400 to Shilling, $800 to Wirch, and $395 to Billings.