A company that manufactures and markets recreational and utility vehicles is supporting bills that would let younger children use them.

Polaris Industries Backs Lower Age Limit for Rec Vehicles

November 24, 2015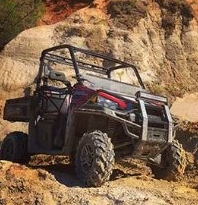 The measures, Assembly Bill 504 and Senate Bill 381, would allow children age 12 and older to operate utility terrain vehicles (UTV) after obtaining a driver safety certificate and with adult supervision. Current law requires minors to be at least 16 years old in order to operate UTVs with adult supervision and a safety certificate.
The bills also change the legal definition of small all-terrain vehicles (ATV) to increase engine power.
Small UTVs and ATVs are four-wheeled vehicles often used for recreation or on farms.
The measures, which have drawn bipartisan support, were authored by Republican Sen. Sheila Harsdorf, of River Falls, and GOP Rep. Adam Jarchow, of Balsam Lake.
AB504 and SB381 are supported by Polaris Industries, a Minnesota-based company that makes and sells snowmobiles, all-terrain and utility vehicles, and motorcycles.
Three company employees contributed nearly $16,000 between January 2010 and June 2015 to current officeholders, including $15,360 to Republican Gov. Scott Walker, and $180 each to Harsdorf and GOP Rep. John Murtha, of Baldwin.
The contributions were made by Polaris chief executive officer Scott Wine, of Plymouth, Minn., $15,000; purchasing manager Paul Nyhus, of Roberts, Wis., $620; and Richard Haddad, of Osseo, Minn., general manager of Polaris' defense division, $250.