A Republican lawmaker is sponsoring a bill that would make it legal in Wisconsin for people to carry concealed weapons on school property.

Guns in Schools?!? Who Gets NRA Money in Wisconsin

January 14, 2016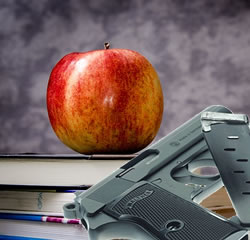 The measure, which is sponsored by Sen. Mary Lazich, of New Berlin, and Rep. Robert Brooks, R-Saukville, would modify Wisconsin's 2011 concealed carry law to allow concealed carry permit holders to carry guns on school property. Concealed carry licensees would also be allowed to carry guns into school buildings unless the school board prohibited it and posted signs about the prohibition at all school building entrances.
Under current law, concealed carry permit holders are prohibited from carrying their guns within 1,000 feet of school property.
Pro-gun interests contributed about $58,400 between January 2009 and June 2015 to all partisan candidates for statewide office and the legislature. Most of those contributions, about $45,300, were made the National Rifle Association's (NRA) state political action committee (PAC). All but $500 of all pro-gun contributions and NRA contributions went to Republican candidates. Democratic Sen. Kathleen Vinehout, of Irma, was the lone Democratic recipient.
The top current officeholders of campaign cash from all pro-gun interests between January 2009 and June 2015 were Republican Gov. Scott Walker, $22,500; and Republican Sens. Alberta Darling, of River Hills, and Luther Olsen, of Ripon, $1,500 each.
In addition to direct contributions, the NRA's PAC its state corporation made independent expenditures totaling about $55,600 on outside electioneering activities to support Republican legislative candidates or oppose Democratic legislative candidates since January 2010.
Neither Robert Brooks nor Lazich received pro-gun contributions or outside electioneering support between January 2009 and June 2015.
All told the NRA is among the leading special interest spenders in Wisconsin legislative and statewide elections, doling out nearly $3.6 million since January 2010. Nearly all of the NRA's outside election spending, about $3.5 million, was to support Walker in his 2010, 2012 and 2014 elections.