A secretive special interest group that sponsored an "issue ad" this week in the upcoming Wisconsin Supreme Court race to support Justice Rebecca Bradley used footage produced by her campaign in its television ad.

Group's "Issue Ad" Cribs from Supreme Court Candidate's Campaign

February 4, 2016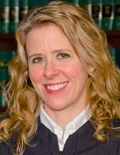 Justice Rebecca Bradley
A secretive special interest group that sponsored an "issue ad" this week in the upcoming Wisconsin Supreme Court race to support Justice Rebecca Bradley used footage produced by her campaign in its television ad.
Bradley's campaign and the group, the Wisconsin Alliance for Reform, denied they coordinated the ad's content and message. But be that as it may, coordination between political candidates and issue ad groups, which do not have to report their fundraising and spending, was ruled legal by the Wisconsin Supreme Court's conservative majority in a controversial decision last July.
The Alliance used some footage of Bradley talking to what appeared to be judges and law enforcement officers that was part of a longer video posted last month by Bradley's campaign to promote her.
Bradley said last fall she would not coordinate her campaign activities with outside groups during the election, but she also would not ask dark money groups to stay out of the race. Earlier this week, Bradley's campaign said it also didn't have a problem with special interest groups using material posted by the campaign in the public domain in their outside electioneering activities.
The Alliance's statewide ad comes two weeks before the Feb. 16 spring primary in hopes of boosting Bradley's name recognition. Bradley, who is one of five conservatives on the seven-member high court, was appointed last October by Republican Gov. Scott Walker to fill a vacancy.
Three candidates – Bradley, Milwaukee County Circuit Judge Joe Donald, and Appeals Court Judge JoAnne Kloppenburg – face off in the primary, and the top two finishers go on to the April 5 general election.