A legislative committee has recommended that the GOP-controlled Assembly approve spending $14 million in additional taxpayer dollars for voucher schools outside Milwaukee in 2016-17.

Who Is Behind More $$$ for Voucher Schools?

February 11, 2016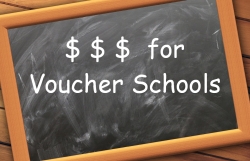 Public school proponents said the proposal, by Assembly Speaker Robin Vos, of Burlington, would further cut back educational choices and quality for the state's 800,000-plus public school pupils.
In addition to the bump in state aid, Vos's proposal also eliminates the ability of school districts to recoup their losses to voucher schools through additional state aid or property taxes. Public schools that lose students to voucher schools in the Racine and the Statewide Parental Choice programs lose the value of those vouchers – about $7,200 per pupil through 8th grade and about $7,900 per high school pupil.
Vos's proposal was an amendment to a seemingly unrelated Assembly Bill 751, which would provide state assistance to children with disabilities and special needs who want to attend private schools. Vos's proposal was added Wednesday, after the bill had received a public hearing late last month.
The latest spending on behalf of voucher schools is on top of the roughly $258 million the state already planned to give Milwaukee, Racine and statewide voucher schools in 2016-17. All told, state spending on voucher schools from 2011, when Republicans took control of the legislature and Republican Gov. Scott Walker took office, through 2016 already totals $1.2 billion.
The Milwaukee, Racine and statewide voucher programs, which provide state tax dollars to allow pupils to attend private and religious schools, are generally supported by Republicans as an alternative to state-funded public schools, and opposed by most Democrats, who claim voucher programs are ineffective, unaccountable, and reduce resources for public education.
The skyrocketing increase in state spending on voucher schools comes on the heels of $7.5 million that mostly out-of-state millionaires and billionaires who support vouchers have spent on campaign contributions, outside electioneering activities and lobbying from January 2010 through June 2015.
Most of the spending was on outside electioneering activities by the Washington D.C.-based American Federation for Children, which spent $5.4 million, including $1.1 million on Walker and $4.3 million on legislative races to support Republican candidates from January 2010 through 2015. The group's primary advocate in Wisconsin is none other than Scott Jensen, the disgraced former Speaker of the Assembly.
Lobby spending by pro-voucher forces was led by the American Federation for Children, which doled out nearly $403,000 between 2011 and June 2015, followed by School Choice Wisconsin at about $88,000, and Hispanics for School Choice which spent $1,761 during the first six months of 2015.
About four dozen wealthy individuals and couples, mostly from outside Wisconsin, doled out more than $1.6 million in direct campaign contributions to Walker and current Republican legislators between January 2010 and June 2015.
The top contributors among voucher backers to Walker and Republican legislators were Robert and Patricia Kern, of Waukesha, founders of Generac Corp., $235,000; Foster and Lynnette Friess, of Jackson, Wyo., owners of Friess Associates, $131,700; Roger Hertog, a retired New York City financier, $120,000; and Bruce Kovner, of New York, N.Y., chairman of Caxton Alternative Management, and his wife, Suzie, $120,000.
The top recipients of pro-voucher contributions between January 2010 and June 2015 were:
Walker, nearly $1.3 million;
Committee to Elect a Republican Senate, $36,400;
Sen. Alberta Darling, of River Hills, who is co-chair of the legislature's budget-writing Joint Finance Committee, $34,850;
Sen. Van Wanggaard, of Racine, $21,500.
The Republican Assembly Campaign Committee received $6,000, and Vos received $1,500 in contributions from voucher supporters between January 2010 and June 2015.