Agriculture interests, which spend big on campaign contributions and lobbying, have scored well so far this year on bills approved by the legislature and signed into law by Republican Gov. Scott Walker.

Big Ag Racks Up Wins with Wisconsin Lawmakers

March 8, 2016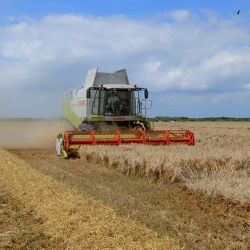 Eight measures sought by the agriculture industry were approved in February and March, including ones that relaxed traffic and shipping rules for agricultural use, and changed licensing, inspection and fees for dairy and food processing plants and slaughtering operations.
All of the measures were approved on voice votes by the legislature, which is controlled by Republicans. Numerous ag industry trade groups lobby the legislature; the Wisconsin Farm Bureau Federation, the state's largest farm organization, spent about $476,500 on lobbying last year.
In addition to lobbying, agriculture interests contributed about $2.5 million to Walker and current legislators between January 2011 and June 2015. Walker accepted nearly $1.7 million and legislators received about $812,700, including about $733,000 by just GOP lawmakers.
After Walker, the top legislative recipients of agriculture contributions between January 2011 and June 2015 were:
Republican Sen. Howard Marklein, of Spring Green, about $96,000;
Republican Assembly Campaign Committee, about $60,900;
Committee to Elect a Republican Senate, about $43,100;
GOP Senate Majority Leader Scott Fitzgerald, of Juneau, about $39,700;
Republican Sen. Sheila Harsdorf, of River Falls, about $32,200.
The agriculture-backed measures approved by the legislature and signed into law by Walker were:
Act 235, which relaxes weight limits each year from Aug. 1 to Dec. 31 for vehicles that ship crops.
Act 242, which reduces food processing plant licensing requirements involving dairy products.
Act 243, which expands licensing and fee exemptions to include ready-to-eat food processors, and prohibits local inspection rules for livestock and poultry slaughtering and processing operations.
Act 232, which eases the weight and width requirements and changes the lighting and marking requirements for agricultural vehicles used on highways.
Act 231, which allows local governments to permit pipelines to transport liquid manure along or under highways, bridges and culverts.
Act 200, which changes requirements and record-keeping for cases involving adverse possession of real estate.
Act 139, which allows large agricultural and other vehicles to deviate from their lanes in roundabouts.
Act 230, which expands the University of Wisconsin Board of Regents' authority to sell or lease agricultural land owned by the UW System.