A GOP bill to repeal Wisconsin's 33-year-old ban on nuclear power plant construction was signed into law by Republican Gov. Scott Walker.

Walker Approves Repeal of Nuke Plant Ban

April 5, 2016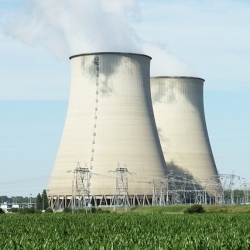 Previous state law banned the state from issuing permits for new nuclear power plants until the federal government created a site to dispose of nuclear waste from the plants. The measure, Assembly Bill 384, signed by Walker allows the state Public Service Commission (PSC) to approve new nuclear plants even though a nuclear waste disposal site has yet to be created.
The new law, which drew support from Democratic lawmakers, also changes the priorities that the PSC must consider to grant future nuclear power plant permits by putting nuclear energy options ahead of nonrenewable energy options.  The measure was approved by a voice vote in the Assembly, and then on a 23-9 vote in the Senate.  The four Senate Democrats who voted with majority Republicans to approve the bill were: Sens. Dave Hansen, of Green Bay, Julie Lassa, of Stevens Point, Janis Ringhand, of Evansville, and Jennifer Shilling, of La Crosse.
The new law was backed by utilities, labor unions, the business community, and the rightwing ideological group, Americans for Prosperity, and opposed by environmentalists and a utility watchdog.
Trade group support for the bill was led by Wisconsin Manufacturers & Commerce (WMC), the state's largest business organization. WMC's 3,500 members span more than a dozen special interest groups, including business, manufacturing, construction, energy, real estate, and transportation.
Walker accepted about $32.2 million in direct campaign contributions between January 2011 and December 2015 from special interests represented by WMC. Trade unions, many of which backed the nuke plant ban repeal, contributed an additional $116,200 to Walker during the five-year period.
In addition to direct campaign contributions, WMC, which is a top spender on legislative and statewide elections in order to influence state policy and spending, secretly raised and spent an estimated $9.5 million to help elect Walker in 2010, 2012 and 2014.
Americans for Prosperity, which was created and funded by billionaire brothers Charles and David Koch to back conservative and Republican causes and candidates around the country, doled out an estimated $4.8 million in the 2012 recall and 2014 general elections to back Walker.