A GOP bill backed by the real estate and timber industries that reduces public access and increases logging on more than 3 million acres of privately owned forestland in exchange for property tax breaks was signed into law by Republican Gov. Scott Walker.

Walker Approves Reduced Access, Increased Logging on Private Forestland

April 15, 2016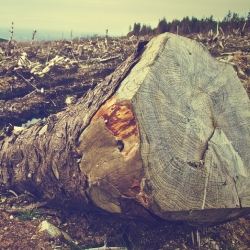 The new law makes numerous changes to the state's managed forest program, which slashes taxes paid on privately owned forestland when owners agree to a logging plan, adopt sustainable forestry and wildlife management practices, and allow people on their land for hunting, fishing and other recreational activities.
The participants in the program are required to pay roughly $2 to the state Department of Natural Resources (DNR) forestry fund for every acre they enroll and leave open for public recreation. The program also allowed participants to close up to 160 acres per parcel to the public, and pay an $11 per acre fee to the DNR fund for each closed acre. Either fee was a huge break compared to the average $42 an acre the landowners would pay in property taxes.
But, the new law doubles the amount of land, to 320 acres, that forestland owners may now close to the public and still receive the tax break. In addition, the new law also :
Reduces managed forestland requirements and DNR oversight and regulation of logging activities;
Increases automatic approvals of logging plans submitted to the DNR;
Prohibits the DNR from identifying endangered natural areas without the landowner's permission, or from requiring landowners to develop conservation plans to deal with declining native wildlife species that are most at risk.
Walker accepted $2.3 million from the real estate industry and about $90,800 from the timber industry between January 2011 and December 2015. Walker's top contributors from the real estate industry were:
$71,000 from Marcus Hiles, of Fort Worth, Tex., an executive with WRPS LP;
$61,650 from a political action committee controlled by the Wisconsin Realtors Association, which supported the new law;
$52,875 from Ron Fedler, of Dodgeville, and his wife, Jan, owners of Gold Leaf Development;
Walker's top contributors from the timber industry were:
$22,000 from Rita Stilin, of High Bridge, owner of North Country Lumber;
$10,250 from the Johnson family, of Hayward, owners of Johnson Timber;
$3,500 from Terry and Patricia Birck, of Walworth, a consultant with TLB Management, and his wife, Patricia.