University of Wisconsin System President Ray Cross and his wife contributed $1,850 in recent years – all to Republican state officials.

Ray Cross and His Wife Contributed to GOP

May 13, 2016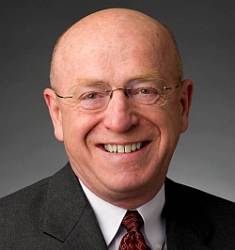 UW System President Ray Cross
Cross has come under fire for supporting the removal of longtime faculty tenure protections from state law last year, and subsequent policy revisions approved earlier this year by the UW Board of Regents that critics say weaken faculty tenure. Cross said tenure should not guarantee a job for life, and that it should also not protect faculty "who are no longer needed" when a teaching discipline is eliminated.
In response, faculty at the UW System's Madison, Milwaukee, La Crosse, Green Bay and River Falls campuses overwhelmingly approved resolutions of no confidence in Cross and the regents. Those actions have in turn drawn fire from GOP legislative leaders and Republican Gov. Scott Walker. The UW-Eau Claire Faculty Senate rejected a no-confidence resolution by one vote.
Cross was also criticized during last year's 2015-17 budget debate for thanking the GOP-controlled legislature when it scaled back its budget cut to the UW System from $300 million to $250 million.
Cross, who became UW System president in 2014, and his wife, Miriam, contributed $1,850 to GOP state officials starting in June 2011, through December 2015.
Ray Cross contributed a total of $750, or $250 each, in 2011 to three legislators – Sens. Luther Olsen, of Ripon, Sheila Harsdorf, of River Falls, and Terry Moulton, of Chippewa Falls. The three senators were among 11 GOP senators who faced historic recall elections in 2011 and 2012 for their support of Walker's successful plan to slash public employee collective bargaining rights.
Miriam Cross contributed $1,100, including $600 to Walker, $200 to Senate Majority Leader Scott Fitzgerald, of Juneau, and $100 each to Sens. Alberta Darling, of River Hills, Roger Roth, of Appleton, and Devin LeMahieu, of Oostburg.