Last night, 150 people gathered at the lovely Lussier Family Heritage Center in pastoral Madison to celebrate the Wisconsin Democracy Campaign's annual gathering.

WDC's Annual Gathering Focused on Hope

Posted: May 13, 2016
Updated: May 20, 2016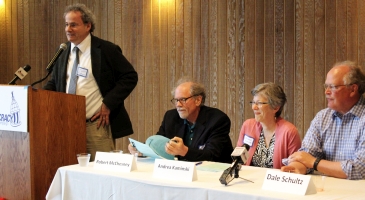 Matt Rothschild; Bob McChesney,
Andrea Kaminski and Dale Schultz.
(Video available on WisconsinEye.)
Executive Director Matt Rothschild thanked the staff and the volunteers and the board of directors, as well as all the members in attendance, who approved the slate of board members.
Rothschild said he was hopeful about the prospects for change in Wisconsin in the pro-democracy direction. "It's easy to get down amidst all the destruction that the Walker Wrecking Crew has caused," he acknowledged. But he pointed to gay marriage and the Fight for $15 as examples of how pro-democracy change can happen suddenly. And he said he doesn't get depressed because he works with people who are "kind and dedicated and fun to be around." These include the staff members of the Wisconsin Democracy Campaign, he said, as well as "lots of other amazing people in the nonprofit pro-democracy sector in our state."
"Working for democracy shouldn't be a chore," he said. "It's actually a kind of joy when you do it in community, with good people."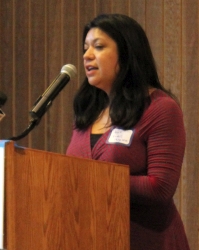 Angie Trudell Vasquez
Rothschild expressed confidence that the appeal of the Wisconsin State Supreme court decision on the John Doe and campaign finance would be overturned by the US Supreme Court.
Dale Schultz, former Republican Majority Leader in the State Senate, spoke next, focusing on the effort that he and Tim Cullen, former Democratic Majority Leader, have been waging around the state on the need to draw fair electoral maps and to end the gerrymandering that allows "politicians to pick the voters, instead of voters picking the politicians," he said. Schultz said that an elected official should never be able to tell constituents that their views don't matter. He was critical of Governor Scott Walker, saying, "It's not conservative to defer debt payments to take power away from local governments." And he noted the anger in the electorate right now: "People on the left and on the right understand that the folks running our government are not doing it in our interest."
Andrea Kaminski, the executive director of the League of Women Voters of Wisconsin, thanked the Wisconsin Democracy Campaign for working so closely with it and Common Cause and WisPIRG and other groups in Wisconsin nonprofit pro-democracy coalition. "We're all working together as never before," Kaminski said. She also stressed how important it is to vote, and to educate the citizens of Wisconsin about the Voter ID law, which her organization fought so hard against. Kaminski came to the defense of Kevin Kennedy and the Government Accountability Board, praising all the work they've done to ensure fair elections in Wisconsin. She expressed concern for the future, since Republicans in the legislature last year dissolved the GAB and are replacing it with two partisan boards. And she urged the Wisconsin Legislature to honor the GAB request to spend $250,000 to educate Wisconsin citizens about what they'll need to vote.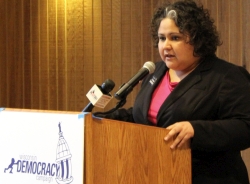 State Rep. JoCasta Zamarripa
Angie Trudell Vasquez, a poet who works for the ACLU of Wisconsin on youth outreach, read four of her poems, which were very well received. "People are worth saving," she said, in her last hopeful poem, "Tree Friends." She also reassured the audience that young people are very concerned about the fate of democracy in Wisconsin and across the country.
Representative JoCasta Zamarripa of Wisconsin's 8th Assembly district also spoke. She acknowledged that her district is the district with the lowest voter turnout in the state. "It's my life's goal to increase civic engagement for Latinos in Wisconsin," she said. "I see the overlap between the need to get money out of politics and the need to increase civic engagement." And she thanked the Wisconsin Democracy Campaign for being an ally in the pro-democracy work that she does.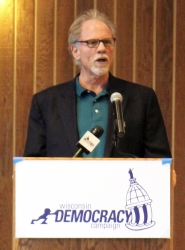 Keynote Speaker
Bob McChensey
Keynote speaker Robert McChesney talked about our "citizenless democracy." He said we have all the trappings of a democracy, with people having the right to vote and with formal representative bodies. "But we no longer have a functional democracy," McChesney said, echoing former president Jimmy Carter. Turnout is exceptionally low compared to other countries, he said. And one reason for that is that the voice of the people doesn't matter when it comes to who influences policy. Time and time again, it is powerful commercial interests that get their way, not the American people. "Corporations always get their way unless they're fighting each other," he said. "We no longer have a functional democracy." The corruption is a bipartisan problem, he noted. He also warned about the growing inequality in the country, and about the weak economy, which will only get weaker. "In the next couple of decades," he said, "there will be a wave of automation that will wipe out tens of millions of jobs."
Nevertheless, McChesney said he was still "extraordinarily hopeful." One reason is because "interest in politics among young Americans is at a level we haven't seen in two decades. And it's not a fad, like streaking. Politics is no longer a lifestyle choice. It's a matter of survival." He added that pro-democracy changes may come in a bundle. "We're not going solve these problems one at a time," he said.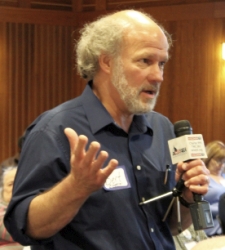 Q&A session
"It's not like we're going to get campaign finance reform, and then a few years later, we'll get single-payer health care, and $15 or $20 an hour minimum wage after that. We're in a moment of flurry when lots of things become possible all at once."
The audience then participated in more than a half hour of Q&As with the speakers, touching on a range of issues, including: the reliability of voting machines, the drift of the Republican Party in Wisconsin, the power of rightwing talk radio in southeastern Wisconsin, felon disenfranchisement, and the similarities and differences between Donald Trump and Bernie Sanders.
Rothschild closed out the program this way: "I know people say that the pendulum will swing back. But I'm an impatient man, and I don't want to wait for it. I want to give it a shove, and want you all to give it a shove, too, so we can give democracy a chance here in Wisconsin."
______________________________________________________________
Poems By Angie Trudell Vasquez Read Thursday, May 12, 2016 At the Annual Gathering of the Wisconsin Democracy Campaign
Taxes
Aching breaking taxes
every April
just when winter slows down
and green pops out
it's time to pay the machine
sharpen your pencil
submit to the will of the IRS
your neck hanging on
like when lying
sideways on a tree
a downed log in a valley
it's not that I object to paying my share
it's the paperwork involved
I least admire
so here I go money
off to war, money on new drones,
and not the homeless
or the children
or the little dogs
emaciated in the alleys,
for my money I'd like
more help and less blood shed
more peace for the small piece I pay
in the whole scope of things
but I too share in the madness
being American me.
From the book, Love in War Time, © 2013
Dark Knight
My husband of dark night and white meat
of close the drapes and turn off the lights,
my husband of ocean back and forehead continent
of bright sky eyes and cavern dimples
my man of sideways talking soft shoe
grooving liquid arms elbows waving
of basketball dreams and close calls
of farm fields for milking hay teats silos
of brooks that meander dogs that follow orders
of harvest the grain feed the cows water horses prairie streams
of peeled woods and sculpted weeds
of roads that cut and spill molasses
of prayers on barstools pews for others
of deer hunting and butchering bother
of take the lands wrestled from another
of planned extermination and cleansing
of beat the child spoil the mother
the woman the house enslave the men,
of sorry we are doing it again,
this is inherited grief – blood concrete.
Published in San Diego Poetry Annual 2015/2016, The Best Poems of San Diego
Synonymous
Tap turns on in a hotel room in New Mexico
spray of hot water shoots out pounds flesh.
Woman wakes, wipes her face, stretches
walks two miles to mountain spring.
Gardener unwinds hose soaks palm tree roots
patrons sip coffee tea orange juice pinkies out.
At the top of the Alps
snow skips winter.
Salmon swims upstream hits dam, bleeds
no eggs will blossom this season.
Arroyos crack, dust spirals up and out, travels
bobcats coyotes rabbit hunt water.
Man in a jungle tilts black head drinks dew
from a banana leaf in the rose dappled morning.
Suburban well in Wisconsin leaches lead
seeks twenty mile pipeline to drain Lake Michigan.
Back in hotel, guests request fresh towels
strawberries in winter, champagne baths.
Tree Friends
In a patch of woods
left to rot and decay
without human hands
to mold or trim old branches
a discussion grows among
tree friends and they decide
people are worth saving
so they spread their
seeds far and wide call
to the wind their desires
and off go little helicopters
and off go birds with seed
in their beaks and the forest
takes over old corn fields
thirsty limbs stretch to creeks
leaves gurgle down streams
it is said among the wood root web
that spring has sprung
crossed the divide
and hill cousins have taken root
where all was strip mined
children run under its boughs
read in its shade and do not
strip bark away and people
who live close by admire
fallen orange and red leaves
swimming in wind currents
and do not mind the nuts,
seeds and scat the birds
squirrels leave and
folks water the trees
when summer droughts
whisk moisture from their roots
and so the trees bend sway
gossip and decide maybe the world
will not go away if they keep
spreading shade and people nap
under their branches on blue sky days.