On Tuesday, Congressman Marc Pocan stood up against the increasingly powerful role of dark money in politics today.

Pocan Warns Donors to Dark Money Group

Posted: June 7, 2016
Updated: June 8, 2016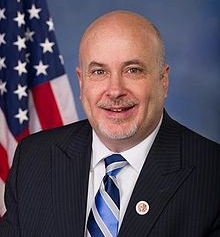 Congressman Mark Pocan
In a letter he sent to 52 organizations in Wisconsin, Pocan, the Democratic representative from Wisconsin's 2nd Congressional District, decried the power of dark money groups to affect the outcome of elections, as well as their ability "to operate in the shadows without any transparency or accountability." He said they have been "filling our airwaves with hateful rhetoric."
In particular, he went after the Wisconsin Alliance for Reform (which uses the acronym WAR on its website), a dark money group that first appeared on the scene last year and played a prominent, if scuzzy, role in defeating Judge JoAnne Kloppenburg in her run for State Supreme Court.
Pocan said the group spent $2 million to defeat her. The Wisconsin Democracy Campaign actually puts the figure at $2.6 million, as you can see here. (For background on the group, click here.)
Pocan wrote that the group's "true agenda" is anti-gay. "Their website was registered by Lorri Pickens, who led the campaign against marriage equality in 2006. Furthermore, she has had deep connections to anti-equality groups for over a decade," he wrote, which led him to believe that "this group has a hate-filled disposition towards the LGBT community."
Representative Pocan urged individuals and organizations "not to contribute funds" to the group. And he put anyone who supports the group on notice.
"By lending their financial backing to this group, organizations and individuals are supporting hateful rhetoric and policies towards the LGBT community in Wisconsin," Pocan wrote. "Any individual or business who gives to this group that preys on and foster hate should be exposed. I am committed to aggressively seeking out who are donors to this group, in conjunction with members of trade and other associations, to ensure the public has the right to know who shares these values."
He sent the letter to unions, trade organizations, and other groups that throw their money around in Wisconsin.
These groups represent some of the top special interest contributors and outside spenders on statewide and legislative elections in the state, including:
The Tavern Industry
Wisconsin Association of Homes and Services for the Aging
Wisconsin Automobile and Truck Dealers Association
Wisconsin Bankers Association
Wisconsin Builders Association
Wisconsin Farm Bureau
Wisconsin Grocers Association
Wisconsin Health Care Association
Wisconsin Insurance Alliance
Wisconsin Realtors Association
Wisconsin Transportation Builders Association
Wisconsin Manufacturers and Commerce