A fundraising committee used by retiring Supreme Court Justice David Prosser to pay recount and legal bills received a $25,000 in-kind contribution in April from the state Republican Party, according to the committee's latest campaign finance report.

State GOP Pays $25K of Prosser's Campaign Debt

June 13, 2016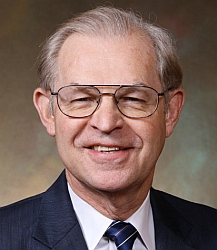 Justice David Prosser
The party paid $25,000 on April 7 to Dan Morse, a Republican consultant and fundraiser for GOP Gov. Scott Walker, for work he'd done for the Prosser Defense Fund. Prosser still has $46,000 in legal bills from his 2011 recount to pay, according to the committee's report.
The in-kind contribution from the state GOP came about three weeks before Prosser announced he would retire at the end of this month – five years before the end of his term. Prosser's early retirement gives Walker the opportunity to appoint a replacement. Walker is currently considering three finalists for the job.
Prosser was appointed to the Wisconsin Supreme Court in 1998 by former GOP Gov. Tommy Thompson and later won two 10-year terms in statewide elections in 2001 and 2011.
Prosser faced no opposition in the 2001 race, and he was expected to have an easy reelection in 2011 until GOP Governor Scott Walker introduced his controversial plan in early 2011 to severely restrict public employee collective bargaining rights.  The plan and massive Capitol protests by hundreds of thousands of state workers drew national attention and made an otherwise quiet reelection bid a referendum on Walker's actions because Justice Prosser had been a longtime Republican legislator and Assembly Speaker.
The close election spurred a recount and more than $230,000 in legal bills.
In 2012, Prosser changed his campaign fundraising committee to a defense fund in order to pay legal bills after the state Judicial Commission accused him of ethics code violations after he put his hands on the neck of fellow Justice Ann Walsh Bradley. The case against Prosser did not go forward for lack of a quorum because enough of the court's justices who witnessed the event recused themselves from the case.
In addition to the Prosser Defense Fund, a second committee created to pay for Prosser's recount expenses, the Prosser Victory Recount Fund, has helped whittle Prosser's outstanding bills to the current $46,000 as of June 30.
Even though the races for the seven-member high court are technically nonpartisan, conservative candidates are frequently backed by GOP contributors and outside electioneering groups, and liberal candidates get support from traditional Democratic campaign contributors and outside groups.
In addition to Prosser, the state Republican Party has also supported some of the Supreme Court's four other conservative justices. Most recently, the party made about $42,200 in in-kind contributions to help elect Justice Rebecca Bradley last April. In 2013, the state party made about $35,900 in contributions to help reelect Patience Roggensack, who later became the court's chief justice.