The Department of Natural Resources (DNR) has revised a proposal to sell state-owned lakefront property to an Illinois couple who contributed millions of dollars in recent years to support Republican Gov. Scott Walker's state and presidential campaigns.

Walker's DNR Resurrects Land Deal with Major Contributor

July 14, 2016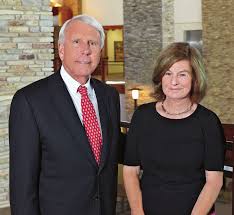 Richard and Elizabeth Uihlein
The DNR Board plans to consider a deal at an Aug. 3 meeting in Ashland in which the state would give Richard and Elizabeth Uihlein 765 feet of frontage on Rest Lake in Vilas County in exchange for about 43 acres and about 2,100 feet of frontage on Mann Lake also in Vilas County. The deal is vaguely noticed as Item 5 in Section B of Section 2 of the board's agenda.
The GOP-controlled legislature has required the DNR to sell surplus property and the agency is putting up parcels, like the Rest Lake frontage, that lie outside of state forest borders. But a deal was shelved last fall to sell the Rest Lake land to the Uihleins for $275,000 after it was reported by media outlets and the Democracy Campaign and drew objections from former DNR Secretary George Meyer, Democratic lawmakers and the Chippewa Indian bands.
The lakefront land the couple wants was valued at $238,000 and $384,000 in two appraisals, and it is adjacent to an 11-unit condominium complex owned by Elizabeth Uihlein. Appraisals for the Mann Lake property, which the couple plans to buy and trade, ranged from $250,000 to $470,000, the DNR said.
The Uihleins, who live in Lake Forest, Ill., founded and own Uline Corp., which distributes shipping and packaging supplies throughout North America. They are avid, longtime supporters of conservative and Republican candidates and causes throughout the country.
Last year, the couple contributed a total of $6.2 million to two federal committees created to support Walker's short-lived bid to be the GOP presidential nominee in 2016, but they later received $4 million in refunds after Walker dropped out of the race. In addition, the couple has contributed $284,500 to Walker's campaigns for governor.