he state Republican and Democratic parties raised more than $1.5 million during the first six months of 2016, and the GOP raised substantially more than Democrats, according to their latest campaign finance reports

State Parties Raise $1.5M+ in First Half of 2016

July 22, 2016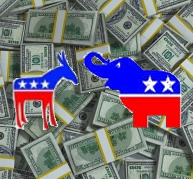 T.
The reports showed the Republican Party of Wisconsin accepted nearly $857,500 in individual, political committee and corporate contributions. The Democratic Party of Wisconsin accepted about $701,000 in individual, political committee and corporate contributions.
That's 54 percent ahead of the $1 million the parties raised during the first six months of the last general election year in 2014.
The first six months of 2016 was the first fundraising and spending period covered by major changes to the state's campaign finance laws that were approved late last year by the GOP-controlled legislature and Republican Gov. Scott Walker.
The new campaign finance laws allow the state parties to create segregated funds, which they have done, to collect donations of up to $12,000 a year from corporations, trade groups, political action committees (PACs), unions and American Indian tribes. But the parties may not use corporate, union and other special interest money from their segregated funds to contribute to candidates or sponsor independent expenditures, which are electioneering activities, like mailings and broadcast ads that directly tell people how to vote. There are no limits on contributions that individuals may give to the parties.
The latest campaign finance reports and earlier reports filed by the parties showing their fundraising and spending leading up to the April elections showed the largest non-candidate and non-party donors to the state Republican Party between January and June were individuals, including:
Diane Hendricks, of Afton, owner of ABC Supply, $100,000;
Daniel McKeithan, of Milwaukee, owner of Tamarack Petroleum, $60,000;
Louis Gentine, of Elkhart Lake, owner of Sargento, $50,000;
David G. Herro, of Chicago, Ill., an investment executive for Harris Associates, $25,000;
Holly K. Jensen, of Madison, a homemaker, $25,000. Jensen's husband, Jay, owns Clasen Quality Coatings;
Stephen Ziegler, of Oconomowoc, chairman of Inpro Corp., $25,000;
Bryce Styza, of Hartland, president of Harmony Homes, $20,000;
Glenn Jonas, of Cedarburg, owner of R.F. Technologies, $20,000;
Barbara Lynch, of Mequon, a retiree, $20,000;
Robert Greenheck, of Weston, owner of Greenheck Fan, $15,000;
Dennis Kuester, Naples, Fla., retired chairman of M&I Bank, $15,000;
Daniel Hartung, Fitchburg, owner of Hartung Brothers Inc., $12,000.
The largest donors, excluding candidates and party committees, to the state Democratic Party between January and June were unions, two companies and an individual, including:
Wisconsin Education Association Council, of Madison, $24,000;
American Federation of State, County and Municipal Employees, of Madison, $12,000;
International Brotherhood of Electrical Workers PAC, of Washington, D.C., $12,000;
Operating Engineers Local 139 PAC, of Pewaukee, $12,000;
Wisconsin Laborers District Council, of Madison, $12,000;
John W. Miller, of Cedarburg, president of Miller St. Nazianz, $10,000;
Wisconsin State Council of Carpenters PAC, of Madison, $10,000;
Milwaukee Bucks, $8,000;
MillerCoors, of Milwaukee, $7,000.