July 27, 2016
Spending in last spring's Wisconsin Supreme Court race totaled $5.6 million, with outside smear groups sharply outspending the candidates.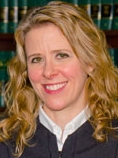 Justice Rebecca Bradley
Campaign finance reports filed earlier this month put final spending by the three candidates in the race at $2.23 million, led by conservative incumbent Justice Rebecca Bradley, who doled out nearly $1.1 million. Bradley defeated challenger JoAnne Kloppenburg, who spent about $838,200, in the general election. Primary challenger Joe Donald spent about $306,000.
An earlier tally by the Wisconsin Democracy Campaign showed outside special interest groups spent more than $3.4 million.
In addition to Bradley outspending Kloppenburg by 30 percent, outside groups that backed Bradley outspent groups that supported Kloppenburg by almost 4 to 1.
Topping the list of outside spenders was the Wisconsin Alliance for Reform, a conservative Madison-based issue ad group formed late last year that spent an estimated $2.6 million. The group sponsored four television ads and a radio ad that attacked Kloppenburg for decisions in three cases before the Appeals Court she sits on.
The Alliance's status as an "issue ad" group means that it can secretly raise and spend unlimited amounts of money for its outside electioneering activities.
Another "issue ad" group, Greater Wisconsin Committee, spent an estimated $710,000 on issue ads and independent expenditures to support Kloppenburg. Greater Wisconsin was formed in 2004 to mostly support Democratic candidates for statewide office and the legislature. The group spent an estimated $600,000 through its issue ad arm on a television ad that attacked Bradley for controversial opinion columns she did as a college student. In addition, Greater Wisconsin's corporation spent about $107,300 on online advertising against Bradley.
Bradley also received help from the Republican State Leadership Committee (RSLC) Judicial Fairness Initiative, which was an arm of the RSLC created last fall to support conservative judicial candidates around the country. The group spent about $114,000 on a radio ad and mailings to support Bradley. The RSLC itself has been around since 2002 helping to elect GOP candidates for the legislative offices throughout the country.
WEAC Region 3 PAC, a political action committee affiliated with the Wisconsin Education Association Council, which is the state's largest teachers union, supported Kloppenburg with about $2,400 in mailings.
The Bradley-Kloppenburg race was the most expensive Supreme Court contest since 2011 when Kloppenburg unsuccessfully challenged Supreme Court Justice David Prosser, who has decided to retire this week before his 10-year term is up. The Prosser-Kloppenburg race cost nearly $5.8 million.