The owners of large vegetable-growing farms ramped up their campaign contributions to legislative committees during the first six months of 2016 when lawmakers considered controversial well water bills they favored.

Big Ag Poured $$$ on Controversial Water Bills

August 23, 2016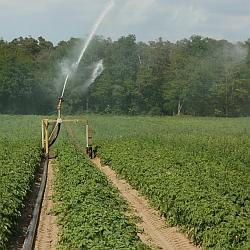 The individual contributions, totaling $33,000 between January and June, were made through a conduit, which is a legal check-bundling outfit, called the Wisconsin Potato and Vegetable Growers Association Political Contribution Fund. Previously, the conduit collected and delivered contributions totaling $29,500 in all of 2014 and $26,250 in all of 2015.
On the lobbying side, the association spent about $48,650 supporting or opposing numerous bills between January and June, and 80 percent of its time and resources focused on four bills to restrict state regulation of so-called high-capacity wells by the Department of Natural Resources (DNR).
High-capacity wells pump 100,000 gallons or more of water per day, and are mostly used by large farms, also known as factory farms, and food processors. Environmentalists and other critics say high-capacity wells can deplete groundwater, rivers, lakes and streams.
Among the top recipients of campaign contributions between January and June via the potato and vegetable growers conduit was the Committee to Elect a Republican Senate, $7,000; the Republican Assembly Campaign Committee, $5,500; and GOP Senate Majority Leader Scott Fitzgerald, of Juneau, $4,000. The two GOP legislative fundraising committees are used to raise money from special interests to spend on elections. GOP lawmakers control the Assembly and Senate by margins of 63-36 and 19-14, respectively. Only $5,500 of the $33,000, or 17 percent, in contributions through the conduit went to Democrats.
Top individual contributors through the conduit were Jeremie Pavelski, of Wisconsin Rapids, president of Heartland Farms, $5,650; James Mortenson, of Wisconsin Rapids, owner of Mortenson Brothers Farms, $5,450; and David Warzynski, of Almond, whose family owns Warzynski Paradise Farms, $2,250.
Two of the measures backed by big business and much of the agriculture industry were Assembly Bill 874 and its companion, Senate Bill 239. The measures would have allowed current high-capacity well owners to repair, replace, or move their wells without state review and approval. The other two proposals, AB477 and SB291, spelled out conditions the DNR must follow to approve high-capacity wells.
None of the bills were approved by the legislature before it adjourned last spring. But Republican Attorney General Brad Schimel issued a legal opinion in May that said the DNR exceeded its authority when it considered the cumulative effect that existing high-capacity wells have on lakes, rivers and groundwater when it considered whether to approve applications for new wells. That opinion likely means the bills to restrict DNR regulation of high-capacity wells are now no longer needed because attorney general legal opinions are considered correct interpretations of existing law, and may only be overturned in court or changed by the legislature.