The cost of food, drinks, and invitations provided by wealthy donors for candidate fundraisers that they hold in their homes are no longer campaign contributions to the candidates under the state's new campaign finance laws.

Food, Drinks at Private Fundraisers No Longer Count

September 6, 2016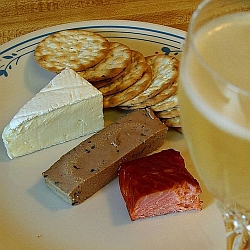 Under previous state law, food and beverages and other costs incurred by an individual who sponsored a candidate campaign event were considered in-kind, or noncash, contributions to the campaign. Other types of in-kind contributions include entertainment for an event, private planes for travel, event tickets, venue rentals, legal fees, and mailings paid for or provided by individuals and not reimbursed by a candidate campaign.
The new exemptions for food, beverages and invitations for fundraisers at private residences shroud transparency by making it more difficult for the public to determine the identities of some wealthy special interests and the ways they are using money for access to future officeholders.
These new exemptions benefit both candidates and wealthy donors because they are no longer in-kind contributions whose value is counted as part of an individual's contribution limit to candidates. Annual individual contribution limits are $1,000 to an Assembly candidate, $2,000 to a state Senate candidate, and $20,000 to a candidate for statewide office.
In-kind contributions for food and beverages to legislative and statewide candidates in the 2014 election year totaled about $141,600. Many of those contributions were made by donors for campaign events held at homes, as well as other venues where the exemptions would not apply. Republican Gov. Scott Walker's campaign received about $83,000 in in-kind food and beverage contributions from individuals.
Walker's top in-kind contributions for food and beverages in 2014 were:
Court and Kameron Wescott, of Dallas, Tex., owners of Westcott LLC, a private investment company, about $12,260;
Debbie Kaerek, of Pewaukee, Wis., co-owner of Kaerek Homes, $7,750;
Donald Zietlow, of La Crosse, Wis., owner of Kwik Trip, about $6,560;
Kevin Hendricks, of Janesville, Wis., whose family owns ABC Supply, about $5,440;
Carla Sands, of Los Angeles, Calif., chairman of Vintage Capital Group, about $4,770;
W. Rockwell Wirtz, of Chicago, Ill., owner of Wirtz Corp. and the Chicago Blackhawks professional hockey team, about $4,420.
The new exemptions and the doubling of candidate contribution limits were part of several sweeping changes approved by Walker and the GOP-controlled legislature, effective this year, to the state's campaign finance laws. To read more about the state's new campaign finance law, check out these stories – here, here and here – on the Democracy Campaign website.