Big Ag Opposes Tougher Fed Atrazine Rules
September 14, 2016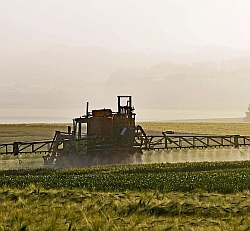 A host of groups representing Wisconsin's agriculture industry wants federal environmental watchdogs to pull back on tougher atrazine rules.
The Dairy Business Association, Wisconsin Farm Bureau and a half-dozen others are asking farmers to contact the U.S. Environmental Protection Agency (EPA) and tell it to reconsider a proposal released this summer to reduce the allowable level of atrazine in herbicide mixes.
The groups claimed the EPA plan would effectively ban atrazine in about 100 herbicide mixes, which would increase production costs and lower corn yields, they maintain.
Even the state Department of Agriculture, Trade and Consumer Protection has warned that atrazine, which is found in low levels in hundreds of wells throughout Wisconsin, may cause "cardiovascular, reproductive or other health problems" after several years.
The public has until Oct. 4 to contact the EPA to comment on the atrazine plan.
In Wisconsin, agriculture is one of the state's most influential special interest groups. The industry doled out more than $1.9 million in individual and political action committee campaign contributions to legislative and statewide candidates between January 2010 and December 2015.
In addition, the Farm Bureau's Volunteers for Agriculture PAC has spent nearly $1.2 million since 2000 on outside electioneering activities to support legislative and statewide candidates.
Most of the industry direct contributions and electioneering activities have supported Republicans, who have controlled the legislature and the governor's office since 2011.
The top recipients of agriculture industry campaign contributions between January 2010 and December 2015 are Republican Gov. Scott Walker, about $1.9 million; GOP Lt. Gov. Rebecca Kleefisch, about $132,600; Democratic candidate for governor Tom Barrett, about $122,400; Democratic candidate for governor Mary Burke, about $120,900; and GOP Sen. Howard Marklein, of Spring Green, about $114,600.