Wisconsin Supreme Court Justice Annette Ziegler plans on running for a second 10-year term in 2017, despite a record of conflicts involving money in politics.

Conflicted Supreme Court Justice Plans Reelection

September 21, 2016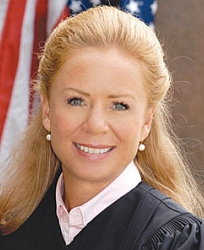 Justice Annette Ziegler
Ziegler and her supporters spent about $4.1 million on her first successful campaign for the court in 2007. Ziegler raised and spent $1.45 million, including $840,000 of her own money. In addition, Wisconsin Manufacturers & Commerce (WMC) and Wisconsin Club for Growth spent more than $2.6 million on outside electioneering activities to support her.
By contrast, Ziegler's opponent, Linda Clifford, and her campaign allies spent nearly $1.7 million, including $1.2 million by Clifford. Outside electioneering groups spent about $464,000 on behalf of Clifford, led by the Greater Wisconsin Committee, which doled out $400,000.
Ziegler's most recent campaign finance report showed she raised more than $200,000 during the first six months of this year for her 2017 reelection campaign.
Since her 2007 election, both WMC and Wisconsin Club for Growth were subjects of a John Doe investigation for illegally coordinating activities with Republican Gov. Scott Walker's campaign in 2011 and 2012. The probe was abruptly halted in July 2015 by a 4-2 Wisconsin Supreme Court decision that found, among other things, that coordination between political campaigns and secretive issue advocacy groups, like WMC and Club for Growth, was legal.
Despite the groups' campaign spending on her behalf, Ziegler was among the high court's four-member conservative majority who voted to quash the John Doe probe and give a green light to campaign coordination with issue advocacy groups. The Wisconsin Supreme Court's decision has been appealed to the U.S. Supreme Court, which may decide next month whether to take the case.
Earlier this week, the Wisconsin Democracy Campaign filed a complaint with the U.S. Internal Revenue Service that asked the agency to investigate whether Wisconsin Club for Growth engaged in deceptive fundraising practices and a prohibited amount of political campaign activity during its role in the 2011 and 2012 recall elections.
Ziegler was also among the conservative justices who voted in 2010 to amend the Code of Judicial Conduct to allow judges to decide cases involving their biggest campaign supporters. The recusal standards approved by the Supreme Court were proposed by WMC and the Wisconsin Realtors Association. The rules say campaign contributions, endorsements, and outside electioneering activities like broadcast ads and mailings by a person or group in a case before the high court are not automatic grounds for justices who received such support to recuse themselves in the case.
An examination of judicial recusal standards was spurred in part by a 2008 Wisconsin Supreme Court decision in which Ziegler sided with the majority in a 4-3 ruling that found Wisconsin businesses were entitled to sales tax refunds and interest totaling upwards of $300 million and a permanent tax break thereafter that is worth more than $28 million annually. The case – Wisconsin Department of Revenue v. Menasha Corporation – was a dispute over the taxation of computer software, and WMC had intervened in the case on behalf of state businesses.