An international union that represents plumbers, pipefitters and welders has contributed $200,000 to two secretive Wisconsin electioneering groups that are spending big to support Democratic candidates in two hotly contested State Senate races.

Plumbers Union Contributes $200K to Wisconsin Electioneering Groups

October 27, 2016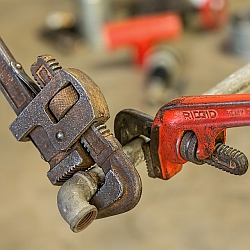 The United Association of Journeymen and Apprentices of the Plumbing and Pipe Fitting Industry, which has about 340,000 members in the U.S. and Canada, contributed $150,000 on Sept. 30 to the Greater Wisconsin Committee (GWC) and $50,000 on Oct. 5 to a group called Prosperity for Everyday People. The contributions were made through two of the union's 527 groups called United Association Political Issues Fund and United Association Political Action Fund.
527 groups are tax-exempt political nonprofit groups that are named after the U.S. Internal Revenue Service (IRS) code that governs them. These organizations, which include the more commonly known GOPAC and MoveOn.org, can accept and spend unlimited amounts from wealthy individuals, ideological and trade groups, businesses and other special interests on electioneering activities in state and federal races. They are required to report their fundraising and spending to the IRS.
Both GWC and Prosperity for Everyday People are phony issue ad groups that can raise and spend unlimited amounts of money for their electioneering activities, but are not required to disclose their donors or spending.
GWC has spent nearly $1.4 million and Prosperity for Everyday People about $850,000 on television ads in two State Senate races.
The groups sponsored ads attacking Republican Dan Feyen, who faces Democrat Mark Harris for the open seat in the 18 th Senate District. The groups also sponsored television ads against GOP Sen. Luther Olsen, of Ripon, who faces Democrat Brian Smith in the 4th Senate District race.