GOP Attorney General Brad Schimel, who won office in 2014 with the help of $1.7 million in backing from big business and other special interests, plans on seeking reelection in 2018.

State's Legal Guardian for Special Interests Seeks Reelection

December 16, 2016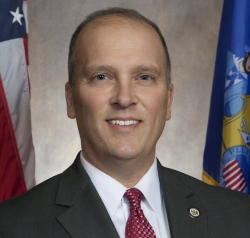 Attorney General Brad Schimel
GOP Attorney General Brad Schimel, who won office in 2014 with the help of $1.7 million in backing from big business and other special interests, plans on seeking reelection in 2018.
Schimel's major support came from Wisconsin Manufacturers & Commerce (WMC), the state's largest business group, which doled out the bulk of secretive, outside special interest spending to help him, an estimated $1.5 million.
WMC boasts 3,500 members spanning more than a dozen special interest groups like business, manufacturing, construction, transportation and insurance. The group uses a combination of lobbying muscle and millions of dollars in spending on outside electioneering activities to elect officials to handle state policy and spending issues, like taxes, labor, education, and environmental regulation, to WMC's liking.
In addition to outside election spending on his behalf, WMC-represented special interests and others contributed $1.4 million to Schimel's campaign between January 2013 and August 2016, including $174,800 from manufacturers, $124,300 from the construction industry, $124,100 from Republican political and ideological interests, $102,700 from business interests, $95,100 from the real estate industry, and $92,700 from banking and financial interests.
In the meantime, Schimel has spent a lot of state time and money during the past two years accommodating the wish lists of those special interests by: