Sen. Steve Nass, longtime critic of the University of Wisconsin, has condemned a course offering this spring entitled "The Problem of Whiteness."

Senator Nass Joins Far Right in Denouncing UW "Whiteness" Course

December 20, 2016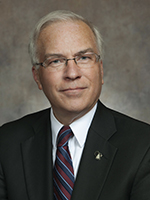 Senator Steve Nass
Sen. Steve Nass (R-Whitewater), longtime critic of the University of Wisconsin, has condemned a course offering this spring entitled "The Problem of Whiteness."
The course is being taught by Professor Damon Sajnani, assistant professor in the department of African Cultural Studies.
According to the course description, it "aims to understand how whiteness is socially constructed and experienced in order to help dismantle white supremacy." It adds: "Since white supremacy was created by white people, is it not white folks who have the greatest responsibility to eradicate it? Our class begins here. We will come together with our socially ascribed identities of Black, white, mixed and other and, with the problem properly in its place we will ask ourselves and our allies, what are we going to do with it?"
Sen. Nass wrote that the university "needs to explain to the hardworking families of this state why their money is being wasted to advance the politically correct agenda of liberal administrators and staff."
The course has become a bloody shirt for the rightwing to wave around, from places like the mainstream conservative Daily Caller, which ridiculed not only the course but the professor's "grotesquely long hair," all the way over to the neo-Nazi InfoStormer.
On the upper left side of the InfoStormer website just under its logo are the words: "Destroying Jewish Tyranny." On the upper right side is a sign, "Trump: Make America Great Again."
"If they want to teach these types of classes, they should at least be fair about it and offer classes talking about the problems caused by Jews, Blacks, and other non-Whites," InfoStormer wrote. "There's far more subject material to cover on those fronts. But no, the only racial group who can be bashed without recourse are White Europeans."
The study of "whiteness," or of its construction, has been going on in academia now for a couple of decades.
Sajnani's reading list includes W. E. B. DuBois's classic, "The Soul of Black Folks," as well as a book by Tim Wise, one of the founders of the field, entitled "White Lies Matter: Race, Crime, and the Politics of Fear in America." It also includes the prize-winning book by Ta-Nehisi Coates, "Between the World and Me."