Wisconsin Supreme Court Justice Annette Ziegler, who faces no opponent in the upcoming spring elections for her second, 10-year term on the high court, raised more than $373,000 in 2016.

See Who Funds Justice Ziegler

January 20, 2017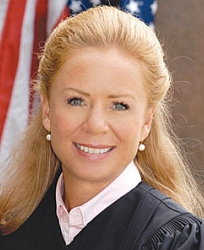 Justice Annette Ziegler
A campaign finance report filed this week by Ziegler showed she raised $167,130 during the second half of 2016. During the first six months of the year, she took in nearly $206,000. The latest report shows she had about $288,900 in her campaign account on Dec. 31, after expenses.
The deadline to run against Ziegler, who is among the 5-2 conservative majority that controls the court, passed earlier this month with no one registering to challenge her. This was the first time since 2006 that a state Supreme Court justice faced no reelection challenge.
Ziegler and outside special interest groups that supported her spent about $4.1 million on her first successful campaign for the court in 2007. Ziegler raised and spent $1.45 million, including $840,000 of her own money. In addition, Wisconsin Manufacturers & Commerce (WMC) and Wisconsin Club for Growth spent more than $2.6 million to support her.
Ziegler's 2007 campaign started a trend of $1 million-plus spending by outside special interest groups in state Supreme Court campaigns. Since then, numerous outside electioneering groups that support Republicans and Democrats in the partisan fall elections have also dropped millions of dollars to support candidates tagged as conservative or liberal for the state Supreme Court.
On Thursday, the Wisconsin Justice Initiative, a judicial watchdog group, called on Ziegler to return all of her 2016 campaign donations, particularly contributions of $1,000 or more, citing the negative appearance that big money has had on Supreme Court elections.
Most of Ziegler's top contributors in 2016 were longtime contributors to Republican legislative and statewide candidates. Here's a preliminary review of the individuals and couples who contributed $10,000 or more to Ziegler in 2016. The employers of these contributors were designated by the Wisconsin Democracy Campaign because state law no longer requires candidates to identify the employers of their large donors. So, Ziegler's campaign reports only minimally identified the occupations of her largest donors with descriptions like "president," "business owner," "CEO," or "chairman," among others:
Daniel and Patricia McKeithan, of Milwaukee, $25,000. He is owner of Tamarack Petroleum and she is a retired vice president of Miller Brewing Co., now known as MillerCoors.
Margaret and Bernard Ziegler, of West Bend, both retired, $22,500;
John and Kathryn Burke, of Fox Point, owners of Burke Properties, $12,500;
Richard and Elizabeth Uihlein, of Lake Forest, Ill., owners of Uline Corp., $12,500;
J.J. Ziegler, of West Bend, a partner in Ziegler Bence Development, $11,100. He is the husband of Justice Ziegler.
Russell Darrow, of West Bend, chief executive officer of Russ Darrow Group, $10,000;
Sharon Ziegler, of West Bend, homemaker, $10,000;
Steve Kilian, of West Bend, president of McDonald's, $10,000;
James Schloemer, of Menomonee Falls, chief executive officer of Continental Properties, $10,000;
George Prescott, of West Bend, retired owner of G.P. Management Services, $10,000;
Diane Hendricks, of Beloit, owner of ABC Supply, $10,000;
Joyce Kingsland, of Alto, Mich., retired, $10,000.