On Jan. 31, Sen. Chris Larson and Rep. Jonathan Brostoff presented a joint resolution urging the legislature to stand up against the scapegoating that President Trump has been engaging in. The resolution doesn't mention Trump by name, but its intent is clear.

Wisconsin Legislators Denounce Islamophobia

Posted: January 31, 2017
Updated: February 16, 2017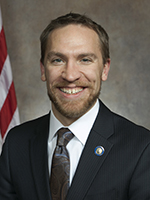 Senator Chris Larson
On January 31st, Sen. Chris Larson and Rep. Jonathan Brostoff presented a joint resolution urging the legislature to stand up against the scapegoating that President Trump has been engaging in. The resolution, introduced as SJR9, doesn't mention Trump by name, but its intent is clear.
"We are saddened and outraged at the recent escalation of hateful rhetoric against Muslims, those perceived to be Muslims, immigrants, and all people of color," the resolution states, "and we are particularly concerned to see political figures and elected government officials leading this escalation and using it in order to gain power."
The resolution notes that "there are more than 3 million Muslims living in the United States today and over 15,000 living in the state of Wisconsin, making invaluable contributions to our economy, our social and political life, and our culture."
Rep. Jonathon Brostoff
Twenty-eight other Democratic legislators have signed on as sponsors of the resolution, which states in part:
"We, as elected representatives of the people, have a special responsibility not to stay silent in the face of hate, violence, and discrimination against any of our constituents or countrymen."
The resolution "categorically rejects political tactics that use fear to manipulate voters or to gain power or influence." It "affirms civil and human rights." It "condemns Islamophobia." And it "reaffirms the value of a pluralistic society, the beauty of a culture composed of multiple cultures, and the inalienable right of every person to live and practice his or her faith without fear."
Larson and Brostoff also launched an online petition in support of the resolution, which you can find at www.ResistHateWI.com.