The Republican-held state Senate is looking at a 31 percent hike in the daily expense allowance (called per diems) they can claim when working in Madison.

State Senate Looking at 31 Percent Hike in Expense Allowance

February 2, 2017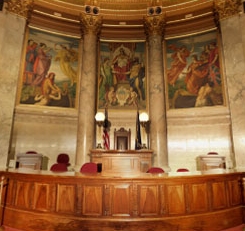 The current expense allowance lets most state senators claim up to $88 each day in addition to their $50,950 yearly salary. Senators who live in Dane County may only claim up to $44 a day when on state business.
Senate leaders are interested in hiking the maximum allowance to $115 a day this year.
Last year, state senators claimed a total of nearly $201,000 in per diems, led by GOP Senate Majority Leader Scott Fitzgerald, of Juneau, who claimed about $14,300. The expense allowance is meant to cover travel, lodging and meals. Senators may claim the entire allowable amount without submitting receipts for their expense, and pocket any difference left over.
Unlike regular legislative policy and spending proposals that require approval from the entire 33-member Senate, a per diem increase would only need a vote from the five-member Senate Organization Committee, which has three Republican and two Democratic leaders on it.
The Assembly increased its per diems, which also used to be $88 a day, in 2015. Currently, Assembly representatives may claim up to $69 for a single day in Madison, and up to $138 when they stay overnight. Assembly members may claim per diems for up to 153 days in a year. Last year, Assembly representatives claimed a total of about $484,500 in expenses, led by Democratic Minority Leader Peter Barca, of Kenosha, who claimed about $9,600.
Both the Assembly and Senate, which have been controlled by Republicans since 2010, have routinely opposed proposals to increase the minimum wage and supported plans to tighten requirements for food stamps and other state aid for the poor.