The Barron County Democratic Party filed an ethics complaint against Wisconsin Supreme Court Justice Michael Gableman, accusing him of lending his name to a partisan fundraising event.

Dem Party Files Ethics Complaint Against Gableman

March 24, 2017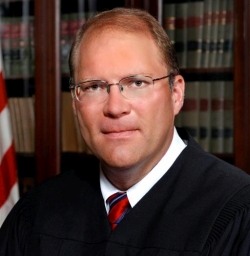 Justice Michael Gableman
The complaint to the Wisconsin Judicial Commission noted that Gableman's name was listed on promotional materials as one of the featured speakers at the March 11 Lincoln Day Dinner held by the Barron County Republican Party. The party's complaint said Gableman's name was on an event invitation on the party's Facebook page from Feb. 26 to March 11. That invitation said the dinner was an "appreciation fundraiser."
Gableman did not end up appearing at the event.
Under Wisconsin's Code of Judicial Conduct, "a judge may be a speaker or guest of honor at an organization's fundraising event provided there is no advertising of the judge as speaker or guest of honor in order to encourage people to attend and make contributions and provided that any contributions at the event are made prior to the judge's speech or presentation as guest of honor."
In addition, the group said Gableman used "extremely poor judgment" for judge by allowing his name to be linked to an event where a former litigant before the Supreme Court was also to appear. The event's keynote speaker was Eric O'Keefe, a director of the Wisconsin Club for Growth. The group was among several special interest organizations involved in the John Doe II investigation into alleged coordination with Republican Gov. Scott Walker's campaign during the 2011 and 2012 recall elections. The probe was abruptly ended in a July 2015 Supreme Court decision written by Gableman.