On April 19, by a unanimous vote, the Dunn County Board up in Menomonie endorsed the growing movement in Wisconsin that is demanding a fair, nonpartisan way to draw political district maps.

Dunn County Joins Call for Fair Maps

April 21, 2017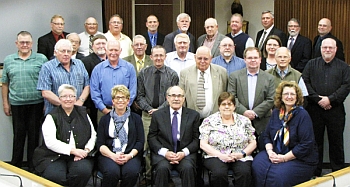 Dunn County Board
On April 19, by a unanimous vote, the Dunn County Board up in Menomonie endorsed the growing movement in Wisconsin that is demanding a fair, nonpartisan way to draw political district maps.
"The redistricting process should not be a tool used by those in power to protect and bolster their power, but should be designed with the best interest of Wisconsin's democracy and its citizens," the resolution stated.
A panel of federal judges has ruled that the Republican-dominated legislature in 2011 drew maps that were unconstitutional because they so blatantly favored the Republican Party that they effectively took the voice away from Democratic voters. That ruling is on appeal to the U.S. Supreme Court.
The Dunn County Board said that letting the party in power draw the maps "stifles political competition, discourages compromise, ensures continued control by the party in power and lacks the transparency necessary to reinforce citizens' faith in the democratic process."
This is the second Wisconsin county board in two months to pass such a resolution.
On March 21, the Lincoln County Board, based in Merrill voted by 18-4 in favor of a resolution demanding the nonpartisan drawing of fair legislative maps.
And back in 2014 Dane County voters overwhelmingly passed a referendum in favor of nonpartisan map drawing.
Both Dane County and Milwaukee counties are also adopting a process of nonpartisan redistricting for their own local districts.