The GOP-controlled legislature gave final approval to a bill that would loosen state fish farm regulations. The measure now goes to Republican Gov. Scott Walker to sign into law.

GOP-Controlled Legislature Approves Fish Farm Breaks

May 12, 2017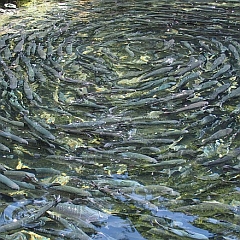 Assembly Bill 160, which was approved by the Senate on Wednesday, would end state permits now required of fish farms in order to discharge material into a man-made wetlands created for fish farming and to build or enlarge man-made bodies of water, like ponds, that are connected to navigable waterways.
AB160 would also allow the state to contract to provide fish or fish eggs to privately owned ponds, clubs, corporations or preserves; create a sales tax exemption for farm-raised fish that are sold to fish farms registered with the state; and reduce requirements on the amount of water that dams operated by fish farms may control or discharge.
AB160 drew support from business groups, fish farms and grocers, and was opposed by environmental groups.
The measure's chief backer was Wisconsin Manufacturers & Commerce (WMC), the state's largest business group. WMC has spent more than $18.6 million since 2010 on secret, outside electioneering activities to support Republican and conservative legislative and statewide candidates.
In addition to its outside spending to influence elections, more than a dozen other influential special interests represented by WMC contributed $16.7 million to current Republican legislators and $33.2 million to Walker between January 2011 and December 2016.