GOP lawmakers are sponsoring a bill that would require the state to develop gun training classes for high schoolers.

GOP Lawmakers Want Gun Courses Offered In High School

June 9, 2017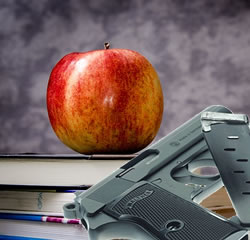 The measure, which prohibits the presence or use of live ammunition in the courses, does not require school districts to offer the classes and does not require any students to take them.
The proposal requires the state Department of Public Instruction and the Department of Natural Resources or an organization that specializes in firearms safety or certifies firearms instructors, to develop the curriculum.
If a school district does offer such courses, the classes must be taught or supervised by an individual who is trained in firearm safety.
The measure is being sponsored by Reps. Ken Skowronski, of Franklin; Rob Brooks, of Saukville; Joel Kleefisch, of Oconomowoc; and Sen. Terry Moulton, of Chippewa Falls.
Moulton's top individual contributors since January 2010 are: Jere Fabick, of Oconomowoc, owner of Fabco Equipment, $15,000; Don Taylor, of Waukesha, a retired vice president of Waukesha State Bank, and his wife, Carol, $4,250; and surgeons Brent and Kristin Wogahn, of Eau Claire, $4,000.
Since Moulton was elected to the Senate in 2010, he has received $1,720 in outside electioneering support and a $500 campaign contribution from the National Rifle Association (NRA), the nation's leading pro-gun lobbying group.
Kleefisch's top individual contributors since he was first elected to the Assembly in 2004 are: the Zignego family, of Hartford, owners of Zignego Co., $3,550; Michael Eisenga, of Columbus, owner of First American Funding, and his former wife, Claire, $3,500; and William and Dana Eyers, of Oconomowoc, owners of Everdry Waterproofing, $3,500. Kleefisch also received $1,500 in campaign contributors from NRA political action committees.
Since Brooks was elected in 2014, his top individual contributors Gregory Alevizos, of Glendale, president of Capitol-Husting Wholesale Liquor, $1,250; Steve Frank, of Verona, owner of Frank Liquor, $1,000; and Michael Ansay, Grafton, owner of Ansay & Associates, $900.
Top individual contributors to Skowronski , who was elected in 2013, are: William Katzman Jr., of Franklin, owner of Eagle Disposal, $1,500; Cash Masters, of Greendale, vice president of Kinetic Co., and his wife, Gina, $1,500; and Kendall Breunig, of Greendale, president of Sunset Investors, and his wife, Diane, $1,250.