Republican Gov. Scott Walker on Friday appointed a longtime western Wisconsin Republican state senator as the state's new agriculture secretary.

Walker Appoints GOP Senator as New Ag Secretary

November 10, 2017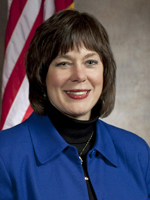 Senator Sheila Harsdorf
Sen. Sheila Harsdorf, of River Falls, succeeds Ben Brancel as secretary of the state Department of Agriculture, Trade and Consumer Protection on Monday.
Harsdorf was elected to five two-year terms in the Assembly beginning in 1988. After retiring from the legislature for two years, she has been elected to four-year terms in the Senate since 2000. Harsdorf was one of nine senators who faced recall elections in 2011 spurred by the passage of Walker's plan to curtail public employee collective bargaining rights.
For more information about Harsdorf's most recent reelection in 2016, fundraising and spending, top lifetime campaign contributors, personal finances, committee assignments, and other information, check out her most recent candidate profile on the Democracy Campaign website.
Harsdorf's top donors since 1993 were:
Retirees Grant and Carol Nelson, of Prescott, $34,500
William, Ron, and Tom Derrick, of New Richmond, owners of Derrick Construction, $11,500
Richard, Carol, Michelle, and Doug Rinehart, of Amery, owners of Dick's Market, about $8,700.