Republican Governor-elect Scott Walker's idea to hold parties for retirees in Sun Belt states and pitch tax cuts to lure them back to Wisconsin may be an effort to reward and expand his biggest donor base which gave him nearly $600,000 since January 2009, a Wisconsin Democracy Campaign analysis shows.

Walker's Retiree Parties, Tax Cuts May Reward Donor Base
Retirees bolted to governor-elect, Republican legislative candidates
November 22, 2010
Madison – Republican Governor-elect Scott Walker's idea to hold parties for retirees in Sun Belt states and pitch tax cuts to lure them back to Wisconsin may be an effort to reward and expand his biggest donor base which gave him nearly $600,000 since January 2009, a Wisconsin Democracy Campaign analysis shows.
Republican candidates for Wisconsin governor have received more than Democratic candidates since at least the 1994 elections (Bar Chart 1), but in the 2006 and 2010 contests retirees substantially increased their contributions to Republican candidates for governor and the legislature, as well as their ranking among other occupational and special interest groups.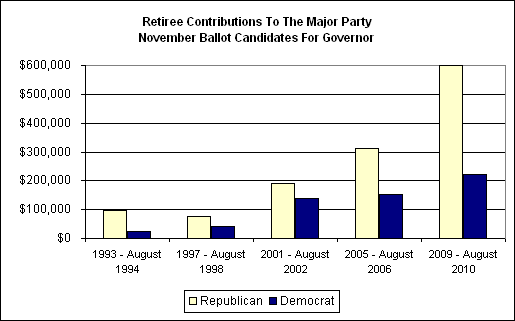 Retirees gave Walker a record $599,616 from January 2009 through August 30, 2010. Democratic candidate for governor Tom Barrett received $220,479 from retirees.
The previous record haul from retirees for a comparable period was held by 2006 Republican candidate for governor Mark Green who got $312,803 from January 2005 through August 30, 2006. Democratic Governor Jim Doyle, who beat Green for reelection in 2006, received $153,979.
Before the 2006 race, the disparity in retiree contributions to Democratic and Republican candidates for governor was much smaller.
Walker said recently he wants to hold "welcome back" parties in Florida and Arizona to talk to elderly Wisconsinites about phasing out state taxes on retirement accounts and returning to the Badger State to live and spend their money, though the governor-elect didn't specify which retirement taxes he would cut or end.
Some retirees and others say lifestyle changes – trading the snow and cold for year-around sunny, temperate weather – not taxes are key reasons retirees leave Wisconsin, and that any dramatic tax cuts for retirees means their tax burden would be met by others or services and programs would have to be cut.
Aside from the governor's race, retirees also boosted the campaign coffers of Republican legislative candidates (Bar Chart 2) in 2006 and particularly in 2010.
Retirees contributed $1.21 million to legislative candidates from January 2009 through August 30, 2010 – No. 1 among all occupational or wealthy special interests groups, including manufacturing, business, construction, banking and real estate. The latest 20-month total sharply outpaces total retiree contributions from previous, comparable periods.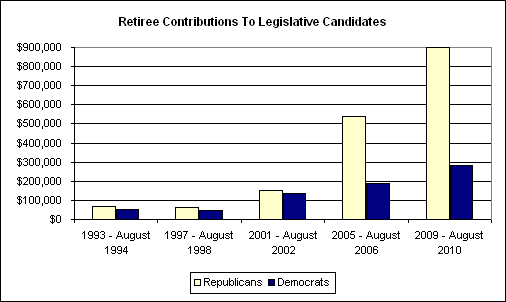 Retirees contributed $749,314 to legislative candidates, third behind medical professionals and real estate interests, from 2005 through August 30, 2006. That was more than double the $293,393 retirees gave legislative candidates from 2001 through August 30, 2002 when their donations ranked fourth behind medical professionals, the liquor industry and real estate interests. From 1997 through August 30, 1998, contributions from retirees ranked eighth among occupational and special interest groups at $116,891.