Most Wisconsin residents believe their state is on the wrong track and have little trust in state officials to serve their interests on issues they care about, and a supermajority supports reforms aimed at making state government more honest, accountable and responsive, a new public opinion survey shows.

Support for Reform Runs Strong in Wisconsin, Poll Shows
State on wrong track and officials can't be trusted to do the right thing
June 19, 2008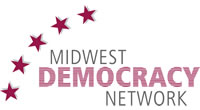 Most Wisconsin residents believe their state is on the wrong track and have little trust in state officials to serve their interests on issues they care about, and a supermajority supports reforms aimed at making state government more honest, accountable and responsive, a new public opinion survey shows.
The comprehensive poll conducted by a national survey research firm* shows that concerns about money in state politics are on a par with concerns about jobs, health care, the economy and public education.
However, the survey also finds that Wisconsinites have grown more optimistic about prospects for political reform since a similar survey was conducted by the same polling firm in 2006. A greater percentage (72 percent) of Wisconsin residents disagree that "corruption in government will always be a problem" than the 65 percent who held that belief in 2006. And 60 percent of Wisconsinites disagree that "money will always influence government decisions," a nine percentage point increase over 2006 (51 percent).
Among the findings:
Concern about the state's direction is on the upswing, with 56 percent saying Wisconsin is "on the wrong track" compared to 38 percent who believed that in 2006.
A majority of Wisconsin residents (58 percent) trust state government to do what is right "only some of the time" or "almost never."
Concern about money in politics is on a par with worries about other key issues, with 33 percent saying they are "extremely concerned" about money in politics, compared to 34 percent who feel that way about the economy, 32 percent for jobs, 31 percent for health care and 27 percent for public schools. Only gas prices registered as a serious worry for significantly more people, with 65 percent of state residents saying they are "extremely concerned."
Strong support exists for a range of reforms. Large majorities of more than eight out of every 10 Wisconsinites believe each of 15 reforms tested in the survey would make a difference in making state government work better.
Large majorities of Wisconsin residents believe publicly financed elections would make government work better, and well over half said they would make a "big difference" even when they were explicitly told tax dollars would be used for political campaigns under such a system.
Public confidence in the fairness and impartiality of judges is shaky. Nearly half of state residents (47 percent) believe judges' decisions are based on politics and pressure from special interests while 50 percent believe rulings are based on facts and the law, with the rest of respondents either unsure or refusing to answer.
Large majorities of state residents believe publicly financed elections for judges would help restore judicial independence. When asked about "public financing for election of judges – that is letting judges use tax dollars to finance their campaigns rather than asking for contributions from lawyers and special interest groups," 85 percent of all respondents said it would make a difference and 54 percent said it would make a "big difference."
An answer to another of the poll's questions shed additional light on the public's view of money in politics and the need for reform, as 80 percent said they think it is more important to protect the right of citizens to a government that is not influenced by special interests than it is to protect the right of citizens to financially support candidates.
The poll's findings also showed a hunger for political candidates who embrace a new approach to politics, as nearly two-thirds (65 percent) of state residents said they are more interested in a candidate who believes it may not be possible to improve education, create jobs and cut taxes without first reducing the role of money in politics and the influence of lobbyists than a candidate who focuses solely on the issues. Just over a third of respondents (34 percent) said they would prefer the candidate who just focuses on improving education, creating jobs and cutting taxes.
Joint statement from the
Wisconsin Democracy Campaign,
Common Cause in Wisconsin and
the League of Women Voters of Wisconsin:
"The results of this poll illustrate an appetite for reform in our state that cannot be overlooked. The public has connected the dots and understands that inaction on jobs, health care and education is directly tied to the influence of money and special interests in our system. We've heard a lot about voters wanting change lately and this survey spells it out for our state government leaders. Over 80 percent of Wisconsinites believe that each of 15 different political reform ideas would make a real difference in making government work better. If that doesn't send a message, we don't know what will. Our state's residents place a primary importance on putting honesty and transparency back in government. It's time to make Wisconsin's government work for the people of Wisconsin again. We are encouraged by the public's desire for progress on political reform issues and will continue to champion a comprehensive reform agenda that aims to create a more open, honest and accountable government."
Wisconsin Report (PDF) • Five State Report (PDF)
______________________________________________________________________________
*The survey was conducted from April 21 to May 4, 2008 by Belden Russonello & Stewart for the Midwest Democracy Network. Established in late 2006, the MDN consists of more than 30 state-based reform advocacy organizations and national research and policy institutions.
Earlier this year, the MDN released "Democratic Renewal: A Call to Action from America's Heartland," a book assessing the condition of democracy in Illinois, Michigan, Minnesota, Ohio and Wisconsin and outlining a comprehensive political reform agenda for the region.