Two GOP bills that would blindfold the public to special interest influence on legislative and statewide elections, and dismantle Wisconsin's nationally recognized campaign finance and ethics watchdog are slated for final legislative approval on Monday.

Campaign Finance, GAB Bills Up For Final Legislative Approval on Monday

November 13, 2015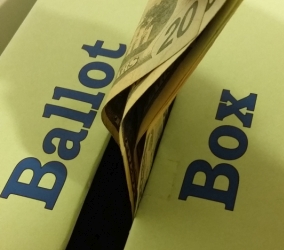 The measures, Assembly Bill 387 and AB388, will be sent to Republican Gov. Scott Walker after the Assembly approves changes made earlier by the Senate. The bills are backed by wealthy special interests, like Wisconsin Manufacturers & Commerce and Americans for Prosperity, which already can raise and spend millions of dollars to influence Wisconsin elections.
AB387 weakens state campaign finance law by doubling campaign contribution limits to candidates; allowing corporate donations to political parties; allowing unlimited dark money donations to so-called independent groups, which can coordinate with the candidates themselves; and dropping the requirement that candidates identify the employer of donors who give them more than $100 in a calendar year.
AB388 replaces the nonpartisan, independent Government Accountability Board with two partisan commissions that are hamstrung with limited investigatory powers and an even number of members that will produce deadlocked decisions and no action in corruption cases that come before them.
Republican legislators, who control the Assembly 63-36 and the Senate 19-14, approved the measures quickly in late October and earlier this month, despite media commentary from around the state condemning the increased secrecy and influence big money would have on state elections.